Looking for a teaching job in China? You've come to the right place! Join our State School Teaching Programme and teach English in Beijing, Shanghai or one of many other exciting destinations.
Run in partnership with the China Education Association for International Exchange (CEAIE), Teach English In China's State School Teaching Programme is one of the most reliable around. We work closely alongside this organisation, registered with the Ministry of Civil Affairs, to ensure our candidates go to China on the right visa and find teaching jobs in safe, reputable schools. Owing to our vast network of institutions, our teachers have a wide range of choice in terms of age group and location. Together with CEAIE, we strive to find you a job in a city and school that suits you.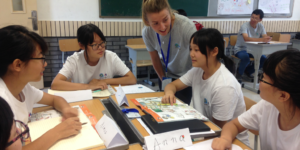 As a teacher at a Chinese state school, you will receive a generous salary*, free accommodation and utilities**, and long vacations. Working 15-25 hours per week, you will plan and lead fun and engaging lessons with a focus on spoken English. Class sizes range from 30-50 students, and depending on their age and ability you'll have a Mandarin-speaking assistant to support you in the classroom. Your school will provide you with textbooks and guidance, though there's plenty of room for imagination and creativity to make your classes special. Read our teacher's stories to find out what it's like.
No previous teaching experience is necessary, but don't worry; Teach English In China is here to help you prepare. We provide our state school teachers with a pre-departure orientation session, a TEFL qualification and a 2-week training camp in Beijing***, all before you begin your teaching job. With us, you can rest assured you're in safe hands!
The deadline for placements starting in August has passed. Apply now for placements beginning in October 2018 or February 2019 in Shanghai or Wuhan.
---
*Amount depends on location (£550-£1600/$760-$2100 per month), **In all locations except for Shanghai, ***TEFL course and training camp only apply to August start
"Living and teaching in China was probably the most rewarding experience I've ever had. It gave me a unique perspective on a different culture and helped me learn about myself and what I'm capable of. Teaching and facing new situations every day has made me a lot more confident."
"I enjoyed the process of planning great classes and the chance to practice teaching several times a day. I enjoyed the opportunity to be creative; the school gave me a curriculum of words and sentences to teach, but I could teach them any way I wanted. It was a great opportunity to put a lot of ideas into practice and see what works."
"The cost of living is so much cheaper here and living in China has provided the ideal platform to work and be able to afford to travel on weekends and in the holidays, something I would never do if I were still at home. I've been to the Yellow Mountains, Hangzhou, Suzhou, Ningbo, Xi'an, Chengdu, Guilin, Seoul, Hong Kong, Kuala Lumpur and Ho Chi Minh!"