China's most international city and popular destination for foreign expats, Shanghai is an exciting, vibrant metropolis that combines the best of ancient and modern China. Spend just a few days in the city, and you'll soon see why so many foreigners have chosen to live there. With ancient temples standing beside towering skyscrapers, the city is the definition of old meets new. Amongst the hustle and bustle, you'll find quiet pockets of peace that make for the perfect escape from city life. Around the city are numerous quaint water towns that characterise this area of China.
Shanghai's economic development has given way to the creation of millions of jobs that have attracted people from across China and the world. Shanghai's population of over 24 million is largely made up of people from outside the city, contributing to a multi-cultural and interesting population.
Teaching English in Shanghai

Our teaching jobs in Shanghai Kindergartens are in various locations around the city. This is classed as a private school placement because even though you will be working Monday-Friday, you will have fewer holidays than you would on a state school programme.
You'll plan and deliver your own lessons for students aged 3-5 years old. Class sizes are kept to a minimum, and you will have two Chinese teaching assistants in the classroom to help you overcome the language barrier. The school will provide you with a curriculum and textbooks to work from, which you'll be given a well-rounded introduction to before beginning your teaching position. Though you'll need to follow a curriculum provided by the school, how you choose to deliver your lessons is largely up to you. This gives you plenty of opportunities to use your creativity to make your lessons memorable!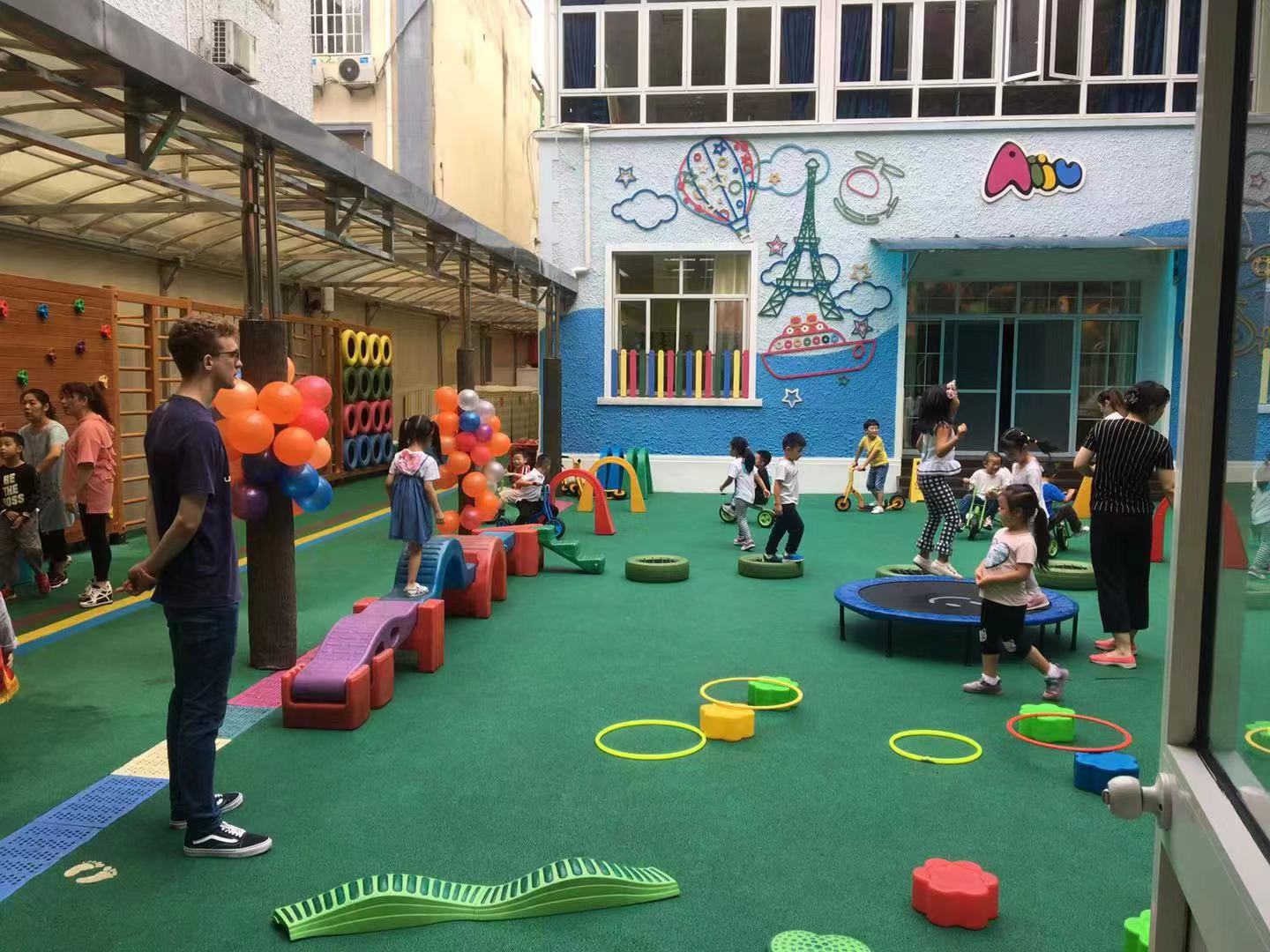 Our private Kindergarten teaching positions in Shanghai require teachers to work from 7:50 am until 4:30 pm, Monday to Friday. You'll have a 3-hour lunch break which allows you to do all your lesson planning at school.
The contract lasts for 12 months and there is a free TEFL option for UK-based applicants. Our partner in Shanghai has two intakes per year for new teachers to start work; one in mid-February, and one in early-September.
Salary
Shanghai Kindergartens offer a salary of 15,000 RMB per month, 4-5 weeks of paid holiday, health insurance, and airfare allowance of up to 6000 RMB. You'll also get free housing. Alternatively, you can choose to receive a 3000 RMB accommodation allowance on top of the 15,000 RMB if you'd like to choose your own accommodation.
Accommodation
Accommodation is provided as part of the teaching contract. This will be a private room in a shared apartment a short distance from the school.
The City
One of China's most exciting cities, there is plenty to see and do in Shanghai. Here are some of our favourite attractions.
Attractions
Yu Gardens: Located just a short way from the Bund, YuYuan, or Yu Gardens in English is a peaceful area that boasts beautiful scenery. Decorated bridges, traditional pagodas and small alleyways lined with shops and restaurants surround the park itself, in which you'll find temples and quaint Chinese buildings.
The Bund: Shanghai's most iconic sight, the Bund is a collection of interesting buildings that form the city's financial district. Visitors can walk along the viewing platform on the other side of the river to get an excellent view of this attraction. From here you can also take a boat to the other side, and get great close-up views during the ride.
Shanghai Tower: The latest addition to the city's iconic Bund, the Shanghai Tower stands as the fifth tallest building in the world. Naturally, it provides incredible 360° views of the Shanghai metropolitan. It's possible to have a drink at the top of the tower, but of course this comes at a high price!
Nanjing Road: Nanjing Road is Shanghai's equivalent to Oxford Street or Fifth Avenue. Stretching around 5.5km, the road leads from Jing'an Temple to the Bund and is home to various shops and restaurants. Attracting around 1 million visitors per day, the road is characterised by a certain buzz and is definitely worth a visit!
Jing'an Temple: One of the city's most famous temples, this sits on West Nanjing Road amongst modern skyscrapers. It's easily spotted by its golden colour and intricate details. With a history of over 780 years, it's one of Shanghai's most interesting and historical sights.
Cost of Living
| Item | RMB | Item | RMB |
| --- | --- | --- | --- |
| City bus | 1-2 | Beer (shop bought) | 10 |
| Taxi (first 3km) | 14 | Beer (at a bar) | 25+ |
| Metro Ticket | 3-8 | Water | 2 |
| New E-bike | 2500+ | Coke | 4 |
| Cheap meal | 25 | 0.5kg fresh veg | 10 |
| Average meal | 60-80 | 1kg chicken | 30 |
| Expensive meal | 100+ | Gym (per year) | 4,000+ |
Food
Shanghai cuisine is a popular style of Chinese cooking, and is similar to that of surrounding areas like Hangzhou and Suzhou. Local food tends to be sweet rather than spicy, ideal for anyone afraid of those Sichuan peppercorns!
Xiaolong Bao: These delicious small dumplings originate from Shanghai, and make for a great snack. A semi-transparent dumpling skin is wrapped and neatly pleated around an aromatic filling of pork and a hot savory broth to form a kind of soup dumping. Typically served with a straw, you're supposed to slurp the soup from the dumpling before digging in to the dumpling itself.
Shen Jian Bao: Similar to Xiaolong Bao, these are also a kind of soup dumpling, the main difference being that they're bigger, breadier, and less delicate. Instead of being steamed, these dumpings are fried to create a crispy bottom and a crunchy texture.
Cong you bing: A great local breakfast snack, these fried pancakes are flavoured with scallions, pork and oil and are fried until crisp. You'll see long lines of locals queuing to get their congyoubing fix year round!
Shanghai Noodles: Travel around China and you'll find that each city has it's own spin on a noodle dish. Shanghai is no different; here you'll find the specialty is fried noodles mixed with various staple vegetables and covered in a soy sauce based sauce mixture.
Entertainment
As the nations most international city, there is always something happening in Shanghai, day or night. Here you'll find a number of western style nightclubs and bars, which stay open until the early hours and prove popular among the expat crowds. If that isn't your thing, head to the Yu Gardens at night to enjoy the atmosphere and pretty lights. You shouldn't miss seeing the Bund at night, when the buildings light up to create a spectacular display. The city is also home to many theatres and stadiums, where famous West End shows are put on and international singers come to perform. If you're looking for a local performance, head to Shanghai Circus World to see the Shanghai ERA; an incredible acrobatics performance that will have you on the edge of your seat!
Interested in teaching English in Shanghai? Check out our Private School Teaching Programme, or apply now to start your teaching adventure in China's most international city!