Your Priorities
So that you have as much choice as possible, we work with different schools all over China. We believe in being transparent and giving you as much information as possible before your placement so that you can feel prepared for arriving in China. The different placements offered by the huge variety of schools that we partner with, mean that some factors do differ quite a lot, such as amount of holiday and salary. These factors also depend on location.
So that you can make an informed decision, we have put together a short guide to make sure that you make the right decision for your placement, depending on your preferences and requirements.
Support & Training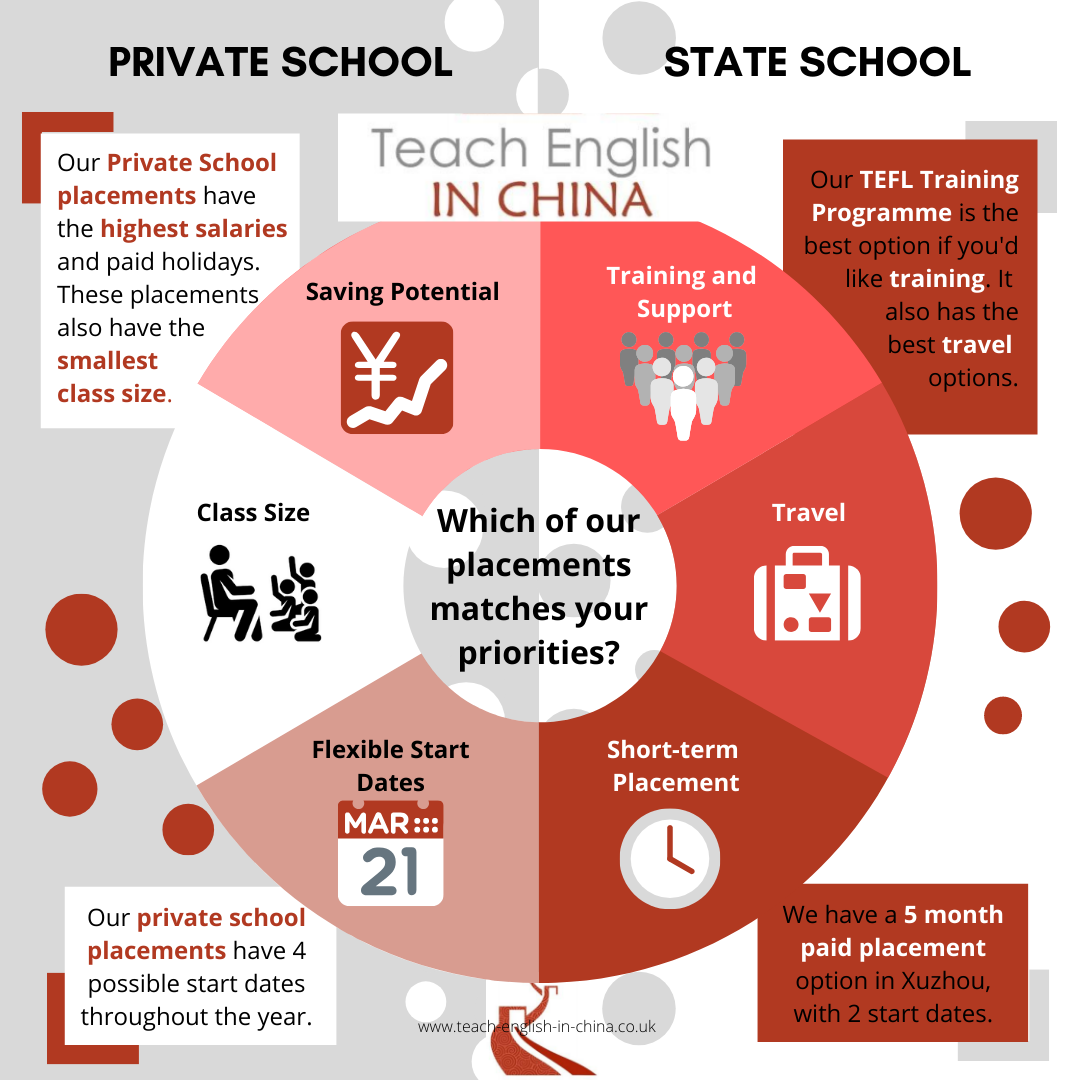 If you want Training Support then the TEFL Training Programme is the one for you. This placement starts in August and includes a 2 week training camp in Beijing and a TEFL course. You'll have hands-on support from the Teach English In China team throughout the school allocation and visa application process. There will also be an Orientation Day in London before you depart, so that you can meet other people who will be at the Beijing Camp. The Camp runs for 2 weeks and for 10 days you will have the chance to co-teach a class, develop your teaching style and receive feedback on your lessons and lesson plans.
If you want to Travel then the TEFL Training Programme is the best option. This is because you'll be working at a Chinese state school which will have time off for national holidays and you'll benefit from a 4-6 week holiday for Chinese New Year (usually January / February time). This extended holiday is the perfect time to travel further afield; previous teachers have gone to Indonesia, Vietnam and even Australia during this time. You'll also be working Monday – Friday so you can travel at the weekends and visit your friends from the TEFL Training Camp.
If you'd prefer to work with older students, we can place you at a University through our TEFL Training Programme. The city options vary year to year, but recent intakes include Nanjing, Guiyang and Ningbo. The programme starts in August with our Beijing training camp. No additional requirements are in place to teach at universtities compared to with other age groups.
To go where there are lots of foreign colleagues in the same boat, teaching on any of our programmes in Shanghai will be your best option. We have a big network there and our state school teachers have regular parties and socials organised for them at various points in the year. Alternatively, teaching in a private school (western-owned) in cities like Wuhan, Chengdu, Xiamen and Fuzhou will mean that you'll be working alongside 10-12 foreign colleagues. These schools often have multiple branches in the same city, so there is a huge network of teachers there, meaning there is loads of opportunity to meet other people.
Salary & Flexibility
If you're looking for a high salary and the best options to save money, the you should consider working at our Chinese owned Private School. There is only a small, refundable deposit for private school programmes (£150/$190) and these jobs have the highest salary. Most jobs are working with adults, but there are some centres that offer classes to younger children. In private schools, you're less likely to have weekends off (your days off will be in the week), you may have to work evenings and you'll have less holiday that at state schools. Teachers working in private schools benefit from smaller class sizes, with no more than 10-12 students at one time. You will also have a language assistant depending on the age and ability of your students, easing you in if you're a first time teacher.
If you need flexibility then the private school programme has options with year-round start options, so you can head to China when you want!
If you'd like to work with young children, then our Shanghai Kindergarten programme would suit you well! And this option is flexible with two intakes: one in February and one in September. You'll plan and deliver your own lessons for students aged 3-5 years old. Class sizes are kept to a minimum, and you will have two Chinese teaching assistants in the classroom to help you overcome the language barrier. You'll work 7:50 am-4:30 pm, Monday to Friday with a 3-hour lunch break which allows you to do all your lesson planning at school. In return, you'll receive between 15,000-16,000 RMB per month.
If you want a short-term paid placement then we can offer a 5 month contract in Xuzhou. The salary is lower than other cities, but you do get free accommodation. You can start in either February or August and you'll be working alongside a team of teachers who we recruit.
Have you decided which programme is right for you? Click the links below to find out more about each of our programmes, or apply now!