Famous throughout the world, China's vibrant capital boasts a history and culture that dates back thousands of years. The city's rich cultural heritage has neither been destroyed nor held back its rapid development. In fact, Beijing's past has been well maintained and today contributes heavily to its charm. Here you can wander through traditional narrow alleyways, bustling business districts or ancient Buddhist temple complexes.
Beijing's impressive economic growth has attracted families, students and young professionals from across China and the world to live, study and work. This has helped form a varied multi-cultural population from all walks of life, that make the city an interesting and exciting place to be. A teaching placement here will give you a chance to really get to know the city and what makes it special.
Teaching English in Beijing
With a teaching placement in Beijing, you'll have the chance to work in a kindergarten, primary, middle, high school or university either in the downtown or suburb area. You'll be expected to work around 25 hours per week and plan lessons in between. Working in a state school, you can expect to teach large classes consisting of up to 50 students. Depending on the age and ability of your students, you will also have a teaching assistant with you to help out. Your school will provide you with guidance and textbooks to help you plan your teaching, but the rest is up to you. There's plenty of room for creativity, giving you the chance to bring fresh ideas and energy to the classroom.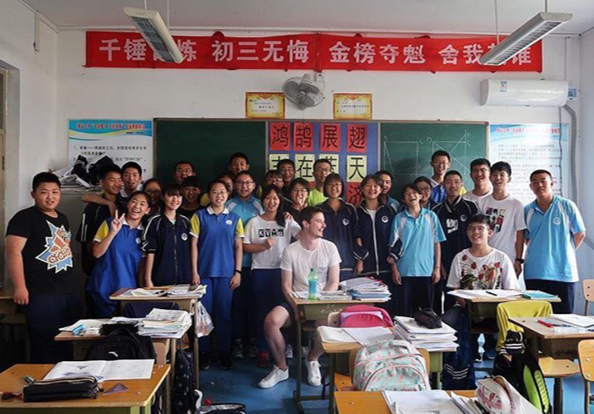 As the capital city, Beijing is home to a large expat community made up of various nationalities. Here, you'll have no problem meeting other foreigners, even if you're the only foreign teacher in your school. We send several teachers to the city each year, so with this placement you'll have an instant circle of friends who can show you around the city and help you settle in much quicker.
Working in Beijing, you can earn between 6,000 – 18,000 RMB per month.
Accommodation
In Beijing, different schools have different policies when it comes to accommodation. Some schools have exisitng apartment blocks in which they house their foreign teachers free of charge. This will either be a private room within a shared apartment, or an individual apartment. These are equipped with essential items like air conditioning, a washing machine and a western toilet. Some schools will also give you a kitchen, while others will not. Those that don't will instead provide 3 meals a day free of charge at the staff canteen.
Some schools will not have their own apartment blocks, and will instead help you find a private apartment to rent. To compensate for this, the school will pay you an extra few thousand RMB per month on top of your salary to help you pay rent. In this case, you can decide how and where you would most like to live, whether that's alone, with other foreign teachers, or with local Chinese people. The average cost of an apartment in Beijing ranges between 3,000 – 7,000 RMB per month.
The City
China's bustling capital city is an extremely exciting place to be, and can keep any visitor who has the time busy for weeks! Aside from the obvious main attraction, the Great Wall, here are some of the city's best sights.
Attractions
The Forbidden City: One of Beijing's most iconic sights, the Forbidden City is a must-see for any visitor to the city. Known as Gu Gong in Chinese, this sprawling complex lies at the heart of Beijing, and once served as the imperial palace for 24 emperors during the Ming and Qing Dynasties (1368 – 1911). During this time, it was forbidden to enter the palace without the Emperor's permission, hence it's name.
Tiananmen Square: Located exactly opposit from the Forbidden City, Tiananmen Square is a remarkably large square that's home to the Tiananmen Tower, Monument to the People's Heroes, Great Hall of the People, Chairman Mao Zedong Memorial Hall and the national flag raising ceremony. Thousands of people flock to this famous square each day. It's not to be missed!
Summer Palace: Located around 15 kilometers from the downtown area, the Summer Palace is China's largest and most well-preserved royal park. It's a peaceful area that contains a lake and  many individual attractions like the Baoyun Pavilion and the Tower of Buddhist Incense. It's a great demonstration of Chinese horticulture and it provides a great escape from the hustle and bustle of the city centre.
Temple of Heaven: Covering an area of 2,700,000 square meters, the Temple of Heaven complex is larger than the Forbidden City. It's divided by two encircling walls into an inner part and outer part, and the temple is enclosed by one. It's a truely breathtaking sight that photos don't quite do justice!
Hutongs: One of Beijing's most historical and unique attractions is the cluster of narrow alleyways known as 'hutong's'. These small lanes once connected the hundreds of courtyards that were found around the Forbidden City, and represent a traditional way of life in Beijing. Though they've been reconstructed in many places, and today house many modern shops and restaurants, they give a good taste of Beijing's culture and help maintain it's charm and character.
Cost of Living
| Item | RMB | Item | RMB |
| --- | --- | --- | --- |
| City bus | 2-4 | Beer (shop bought) | 7 |
| Taxi (first 3km) | 13 | Beer (at a bar) | 25+ |
| Metro Ticket | 3-7 | Water | 2 |
| New E-bike | 2500+ | Coke | 4 |
| Cheap meal | 20 | 0.5kg fresh veg | 4 |
| Average meal | 50-70 | 1kg chicken | 20 |
| Expensive meal | 100+ | Gym (per year) | 4,800+ |
Food
Beijing is home to a number of tasty northern Chinese style dishes. It's also where you'll find tasty local snack and sweets make for extremely popular gifts. For any first-timer to the city, head to Wangfujing Snack Street, where you'll find many interesting local snacks.
Peking Duck: Undoubtedly the best known dish originating from Beijing, this famous dish is one you must try whilst in the capital. Famed for the thin, crispy duck skin and tasty sauces and accompaniments, it's difficult to go wrong with roast duck in Beijing, and you'll find it served all over. The best and most authentic places will have waiters carve the duck beside your table.
Jingjiang rousi: This is another dish that originates from Beijing and that's incredibly popular among local 'Beijingers'. It's popularity may stem from its simplicity; sliced pork cooked in a sweet bean sauce served with soya bean wraps.
Zhajiang Noodles: When it comes to trying traditional Beijing cuisine, this noodle dish comes high on the list. Made from wide hand-pulled noodles, vegetable pieces, and pork, it's a simple dish that makes for an ideal lunch time snack. Even better, it's very cheap!
Beijing Yoghurt: One of Beijing's most iconic street snacks, this light yogurt is a refreshing treat on a hot day. Unlike western-style yogurt, Beijing-style yogurt is made daily by heating milk, sugar, and rice wine, which is then transferred to ceramic pot to lightly ferment. The texture of yogurt is thinner than Greek yogurt and it is usually drunk with a straw, rather than eaten with a spoon.
Entertainment
There is always something going on in Beijing, so you'll certainly never be bored! If you're looking for culture, head to a local Peking Opera performance, where you'll get to witness a quintessential Beijing show that has played an important role throughout the city's history. Kung Fu performances take place in theatres around the city, one of the best being at the Chongwen Worker's Palace. The old hutongs come alive at night, and aren't to be missed. Nanluogu Xiang hutong in particular is a must-see. When it comes to nightlife, Beijing won't disappoint. Salitun area is home to numerous bars and clubs that prove popular among the expat crowd and offer a fun night out!
Interested in teaching English in Beijing? Check out our State School Teaching Programme, or apply now to start your teaching adventure in China's historic capital.