Located on the northern coast, only a stone's throw from the bustling capital, Tianjin is often overlooked by visitors to China, which, given its unique and interesting historical background, elegant European-style architecture and relaxed atmosphere, is a great shame.
After opening up to foreign trade in 1860, the city of Tianjin was ruled by nine different countries, including Great Britain, Italy, France and Hungary, each of which opened their own self-contained concessions across the city. Though this rule ended in 1900, many architectural reminders remain in Tianjin, giving the city a distinctly European feel. Since this time, Tianjin has become one of China's most important international trade hubs and a very interesting destination for both domestic and international travellers, making it an exciting, contemporary city in which to live and work.
Teaching English in Tianjin
Teaching placements in Tianjin are available on our Private School Teaching Programme, meaning you'll be working for a well-established organisation known throughout China. With a placement in Tianjin, you'll be required to work 5 days per week, often over the weekend. You will teach from around 15:00 – 21:00 on working days, and plan lessons or attend training outside of this time. You will get the chance to teach students ranging in age and ability, and receive help and support in adapting your lessons to your students needs. The school will give you a curriculum to follow, but you'll have the chance to use your imagination to make your lessons special.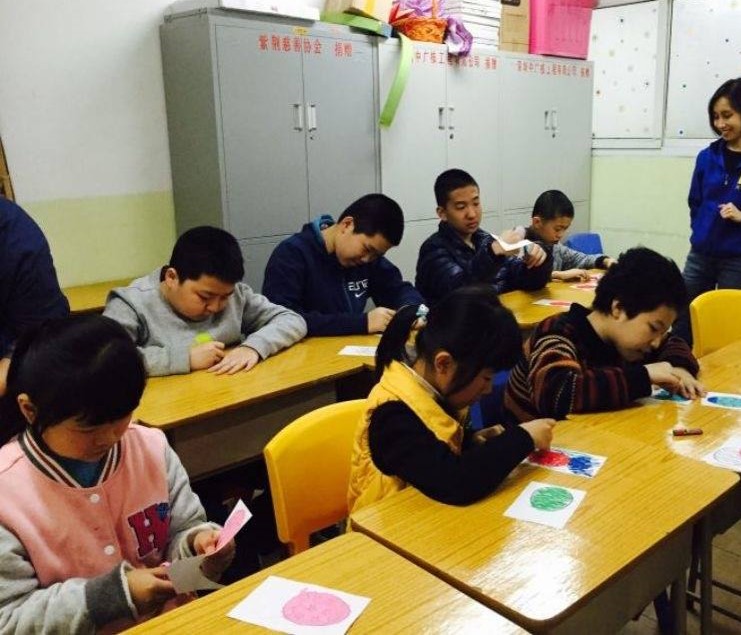 Our Tianjin placement offers a net salary of around 9,000 RMB per month, medical insurance, flight reimbursement, and teaching modules to help your professional development. Salary level may differ depending on your experience. You will need a TEFL qualification before starting your contract. If you don't already have one, the school will offer this course free of charge before you start your placement.
Ongoing training and support is provided, and those who perform well will get a chance to progress to other roles in the business.
Our partner school in Tianjin offers a minimum contract duration of 12-months.
Accommodation
Our partner school in Tianjin offers all teachers free accommodation within a shared apartment as part of the teaching contract. Apartments are comfortable and equipped with all essential amenities and a western toilet. Should you wish to find your own accommodation in Tianjin, your school will help you find somewhere suitable, and they will offer a monthly accommodation allowance to put towards your rent. Rental prices of apartments in Tianjin range between 3,000 – 7,000 RMB per month.
Attractions
Tianjin's long contact with foreign trade and culture has certainly left its mark on the city. Here you'll find large areas that closely resemble European cities just a stone's throw from typical Chinese neighbourhoods. This gives the city an unmistakable cosmopolitan feel that easily wards off feelings of homesickness. Here are some of Tianjin's best attractions.
Ancient Culture Street (Jingmen Guli): Formally opened in 1986, the Ancient Culture Street is a beautiful area in which visitors can appreciate traditional architecture, shop for traditional gifts and try some of Tianjin's delicious local snacks. The buildings in this area have been built using blue bricks and the doors and windows are decorated with colourful paintings, some of which tell stories from classic Chinese novels. The area is designed as a place for visitors to experience Chinese folk custom and is an interesting area to explore!
Porcelain House: Built in the 1920's, the Porcelain House is a French style building, covered in porcelain from various periods of Chinese history. Located along Chifeng Road, the house stands among regular buildings of Tianjin, making for a very interesting and attention-grabbing sight. Visitors can enter the building for 35 RMB to explore three floors, which contain hundreds of preserved pieces of furniture and paintings from various Dynasties and famous painters.
The Five Great Avenues: Wǔdàdào (Five Great Avenues) is the name given to five upmarket parallel streets in Tianjin, which feature architecture from various European countries such as Britain, France, Italy, Germany, and Spain. Over 50 of the 230 buildings have been occupied by foreign celebrities, which is noted on plaques outside of the various residences. Characterised by its mixture of architectural style from the Renaissance, ancient Greece and the Qing Dynasty, the Five Great Avenues are an interesting area that captures the city's charm and history.
Cost of Living
| Item | RMB | Item | RMB |
| --- | --- | --- | --- |
| City bus | 1-2 | Beer (shop bought) | 6 |
| Taxi (first 3km) | 8 | Beer (at a bar) | 15+ |
| New bike | 350+ | Water | 2-5 |
| New E-bike | 2500+ | Coke | 4 |
| Cheap meal | 15 | 0.5kg fresh veg | 7 |
| Average meal | 30 | 1kg chicken | 20 |
| Expensive meal | 100+ | Gym (per year) | 2,500+ |
Food
Tianjin is famous throughout China for its traditional snacks and great food scene and it's not something that should be missed!
Shiba Jie Mahua: One of the city's most popular snacks, this is a sweet, crispy dough, fried in peanut oil and stuffed with various fillings.
Goubuli Baozi: This traditional snack has a history of over 150 years and has become famous not only across China, but also throughout other Asian countries. It is a type of Baozi (dumpling), which originated in Tianjin. One of the features that differentiates it from other types of Baozi is that each Gobuli bun has 18 wrinkles.
Erduoyan Zhagao: This snack translates literally to 'ear hold fried rice cakes' and gets its name from the Tianjin Hutong, named 'Ear-hole hutong'. Glutinous rice is kneaded into a dough and fried to create a golden coloured, crispy rice cake, with a soft centre.
Zhilanzhai Gao Gan: This is a famous sweet snack of Tianjin and originates from the early Ming Dynasty. This dry cake is white in colour, very refreshing and nutritious.
Entertainment
Thanks to its proximity to Beijing and its modern city centre, Tianjin offers visitors a lively nightlife. Not only is the Italian Style Street great to visit during the day, but it's also a popular and vibrant place to spend the evening. There are also many bars across the city where you can enjoy a western style night out. For a more traditional local evening, go to a Xiangsheng (相声) show. Translated at Crosstalk, this is a traditional Chinese comedic performance in the form of a dialogue between two performers, or in some cases a monologue. Hard to understand, but an interesting part of local life you shouldn't miss!
Interested in teaching English in Tianjin? Check out our Private School Teaching Programme, or apply now to kickstart your career in and explore a city that brings together the best of Chinese and European culture.