Becky's Guide to Zhangjiajie

By Rebecca Foster, teacher in Chongqing (2014-205)


Hello Friends,
Here is a guide to help you through your trip to Zhangjiajie
This is just what I did that I found helpful.

Getting to ZhangJiaJie
I took a train from Changsha train station, the capital of Hunan, to Zhangjiajie. It took roughly 5 hours and only cost around 50 rmb. The train was pretty busy when I went but I think this was because of it being National week.
You get into the small train station when you arrive.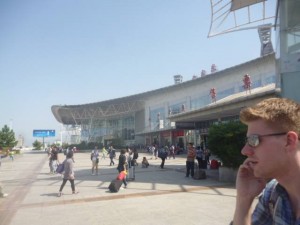 When you get in there will be a shopping centre on your left with a McDonalds and a food court. This will be your main port of call for supplies.
If you follow the road straight down from the exit of the train station it will take you into the centre of town.
Accommodation
From the Train station our accommodation: take the road directly in front of the exit and then the first left, past the bus station, past an edgy looking wine bar and then down a street with lots of street food outside on your right
The entrance to our hotel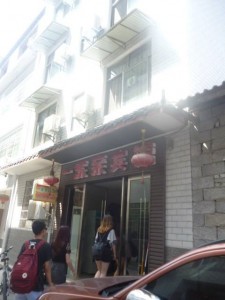 Our accommodation was a bit pricey 45 pounds each for 3 nights but the owner was very friendly and helpful telling us the best routes to go, giving us maps and helping us get deals and transport easily.
This was great as we were travelling newbies.
We got 2 and 3 rooms ensuite. Pretty basic but nice.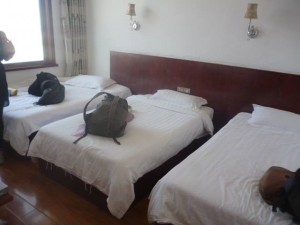 Apparently there is also a hostel though if you want a budget option.

Zhangjiajie town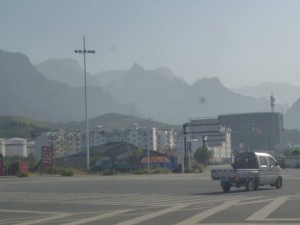 The town itself is pretty small and was pretty empty too considering it was national week. There are a few shopping centres and big restaurants but I recommend sticking to the local dingy looking places for the best food or the street vendors.
The best part of staying in the city is that everywhere you go you see these beautiful mountain ranges. They truly are breath taking.

The Mountains
There are two major mountain ranges to go to in Zhangjiajie. The main national park which is huge (It will take you a good three days to see all of it) and tianmen mountain which is smaller and you can easily do in a day.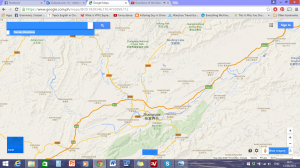 Tianmen (red circle)
This mountain range is closest to the Zhangjiajie town and the smaller mountain range of the two.
However, this does not make it any cheaper
Admission: I can't quite remember but I believe it is roughly 150 rmb entry to the mountain and 150 rmb extra for the cablecar for a return trip. However, if you have a student card bring it! I think it reduces it to 80 rmb but I am not quite sure as I didn't have mine…. Bummer
The cable car: It is truly spectacular and apparently one of the longest in the world (though they say this about everything in China). The views as you come up are amazing.
Where to get it: You can get the cablecar from a station in the centre of town. Be warned though the queue is huge. Not only is there a massive queue to buy the actual ticket but also a 3 hour queue for the actual cablecar. Also, this was when we started queueing at 7am. However, this was national week so it is probably the busiest it will get.
Regardless I recommend going early or trying to book your tickets in advance.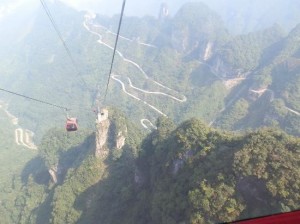 However, I think you can get a bus up the windy road you can see in the picture above.
We also heard word of hiking up but I don't know how and I think it takes roughly 4 hours.

Things to do
When you get to the top of the mountain you will enter a tourist centre. You can go to the top of it and see your first view of the mountain. (be warned the toilets here are gross and the food overpriced). Don't hang around here too long it is by no means the best view.
I then recommend you go around to your right and follow the path around the mountain. It will take you roughly 4 hours and there are lots of things to see and do on the way
On the map: Start at the blue circle and go round to your right thenlooping back around and finishing at the temple.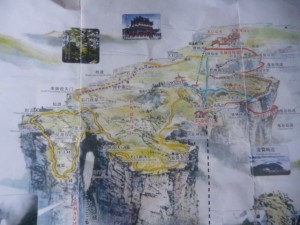 The sky walk: Green circle: See through walkway where you can see the extent of the drop. You ge to wear little booties it is pretty fun!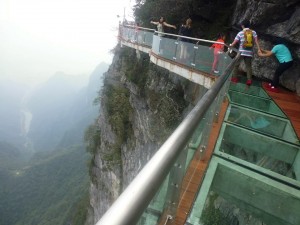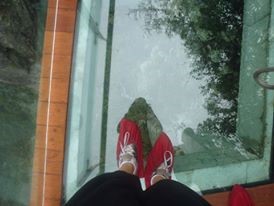 The Ribbon Road: Red circle: You can buy a little ribbon, write a wish for the future on it a tie it to the bridge or a tree.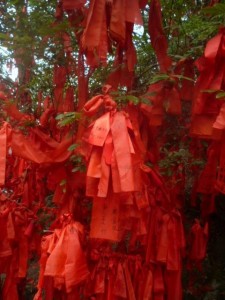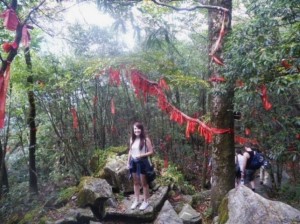 The dragon eye: Yellow circle: This was probably my favorite part of this mountain. You go down loads of escalators (literally loads) and then when you come out you walk along a path, there is a massive hole in the side of the mountain and a spectacular view. You can put on a lock to keep your love here forever or walk down the reported 999 stairs if you want to. (we did not!)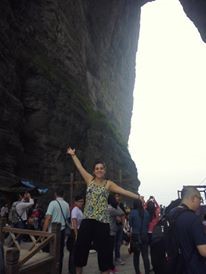 The temple: Purple circle: We finished by looking at the temple, It is nothing special just your bog standard temple but it was beautiful and had a nice atmosphere. We also then got a chair lift back to our starting spot but this was quite expensive, nearly 40 rmb. There are lots of chairlifts on tianmen which the locals usually get but I think to truly appreciate the mountain you should do the scenic walk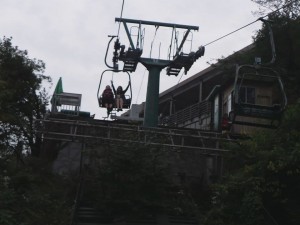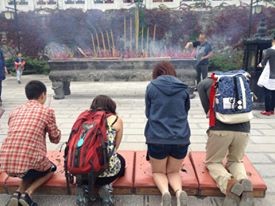 The parts of the map with no circles on were just scenic views with no distinguishing attraction.

Zhangjiajie National Park (Orange circle)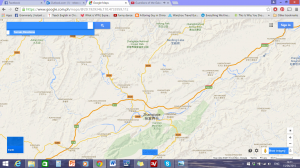 How to get there: we took a bus from the bus station near the train station. The entrance is next to McDonalds. Then we asked for the bus to the national park. I think it leaves relatively regularly.
The trip was about an hour and only cost 5 rmb (although the price might have changed)
Tickets: Tickets cost 150 rmb for a two day pass and 80 for a student. You can get these from the main ticket office. This is straight ahead and to your left as you leave the carpark. Past all the people trying to sell you souvenirs (these are pretty cool by the way, remember to haggle).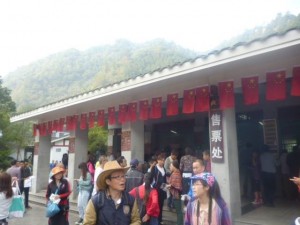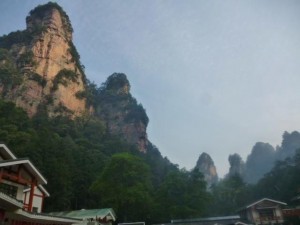 How to get there:

Sneaky Route
Okay here is where my advice gets really valuable. As we got into the park we went up a sneaky way that was rarely used as it is a quite a long walk. But it is beautiful and peaceful and well worth it. I don't recommend getting the cable car as the queue will be huge again and believe me you get bored of queuing.
How to get there: When you enter the park there will be a straight path maybe surrounded by monkey's (word of advice don't get close to them they are vicious, one hit me!)
On your left there will be something that looks like a park with a statue of lock in it. All of the Chinese people take picture with the lock for some reason.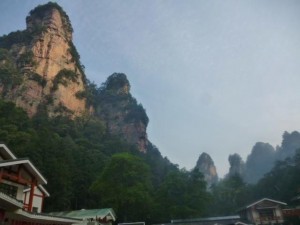 Walk past the lock statue (take a picture if you want) and carry on down the path. You will then reach a forest looking place. Walk through this forest path and all the way to the top. It will look empty but this is the beauty of it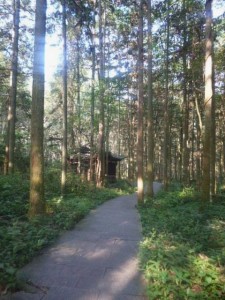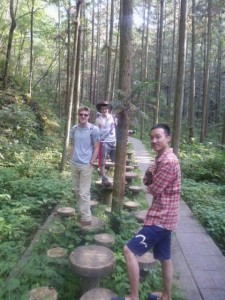 There is a little fun adventure trail that you can walk through and play on.
When you get to the top of the forest park you will pass a big restaurant on your right. Don't eat there the owner will try and rip you off! (Bring your own food and drink). He tried to charge us double the price on the menu
Then walk up the path on the left and all the way up the mountain. Be warned it is a long and tiring walk.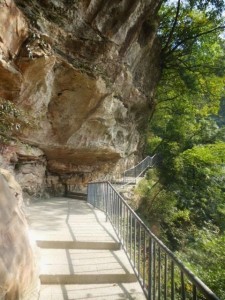 As you walk up there will be a bridge on your right, ignore it and keep walking up. Here is where the spectacular views are.

Second Sneaky Route
At the top of this mountain as you walk around you will also see a disused toilet block or maintenance block (I don't know which) and a path down the right hand side. When we went this path was blocked by a fallen tree. We didn't know whether this was to stop us going through or not but we did we saw the most spectacular views the other side of this path. So go through it if it is there!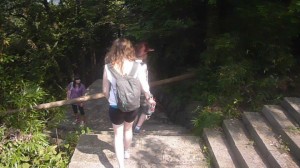 Getting back down: You can either walk back down to the restaurant and take the path directly in front of it (if your back is to the forest) or you can walk back down the way you came.
There is certainly more to see in this national park than we did but we didn't have enough time to see it all.
Other things to do in ZhangjiaJie
The Lake
One day we got bored of being in big crowds and seeing mountains so we decided to go and check out a nearby lake.
How to get there:The bus stop is near the train and bus station but not inside the same bus station as before. It is on the road directly up from the train station, underneath a big billboard and by lots of restaurants. It will cost you 2 rmb. Then get off at the terminal bus station. You can catch the bus back from this same place.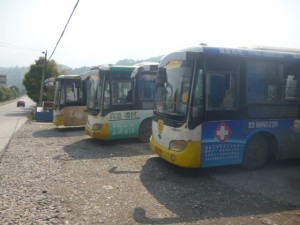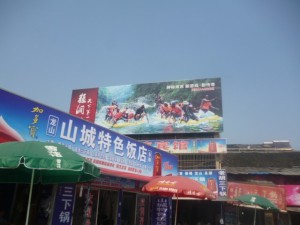 Walk through the local village by going up the road (not the way you came on the bus) until you see a path leading away on your left. If in doubt follow the others getting off the bus who look like they have food for bbq's.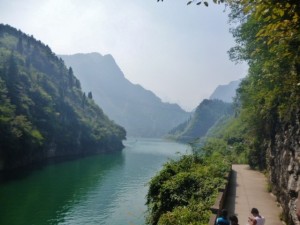 Follow this path around until you get to a river surrounded by mountains.
Follow the path down further still until you see people waiting. They are waiting for a boat. This will take you to a scenic spot to sit and relax. The boat only costs a couple of yuan too.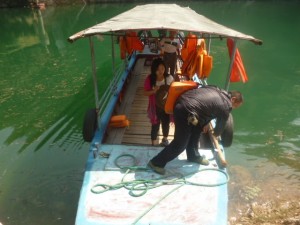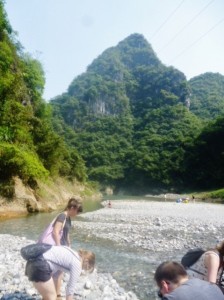 The show
There is also an amazing musical show near the village, about a local tale with a beautiful fox queen who falls in love with a normal peasant (believe me it is better than it sounds)
It is in Chinese but has English subtitles on a screen.
I can't really help you with how to get there on this one because or hotel manager booked us a taxi.
Admission: 120 RMB (or there abouts)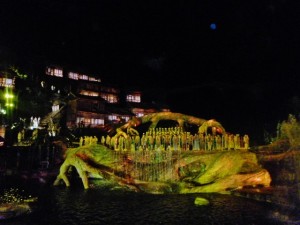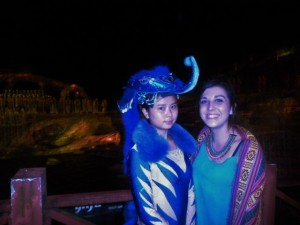 Becky's 10 top tips for a great trip
1. Bring lots of water
2. Bring your own food, it's a rip off there
3. Bring your student card (discounts!)
4. Get up early and go to bed early, it's not really a party town, so just make the most of the mountains when you can
5. Book in advance to beat the queues
6. Take sun block. I got burnt
7. Trainers are a must (don't do it in heels like crazy Chinese women)
8. Don't think you can do all of it. You can't it is huge.
9. Don't be a winger, nobody likes that. Just keep swimming
10. Have fun!
By Rebecca Foster