As the biggest festival in China, Chinese New Year is a must-see celebration for anyone taking part in one of our paid teaching placements. Better known locally as Spring Festival (春(chūn)节(jié)), this is a time for families to get together, eat good food and celebrate the beginning of a new year.
Owing to its huge cultural and geographic diversity, festivities vary across the country. From ice festivals and temple fairs, to firework displays and horse races, China has it all. Of course, one of the most authentic ways to experience Spring Festival would be with a Chinese family. But in case that isn't an option, we've put together a list of the 7 places to celebrate Chinese New Year.
Shanghai
In keeping with its reputation as China's most international city, Shanghai offers both traditional and modern New Year celebrations. To see how the Shanghainese typically spend this time of year, head to Longhua Temple for the traditional bell-ringing ceremony. This Buddhist Temple is known for its 3,000-kilo bell that 108 members of the public are permitted to ring only twice a year; on the Eve of both the Western and Chinese New Year. Tickets to ring the bell go on sale several weeks in advance, but be quick – they sell out fast! Whether or not you ring the bell, the temple is still well worth a visit; following the bell-ringing ceremony lion dances, firework displays, and folk performances continue well into the night. If you can't make it to Longhua Temple, don't worry; similar events take place at various temples around the city.
To join the modern celebrations, head to Disneyland Shanghai, where you can take part in new year activities and enjoy classic CNY food.
The Lantern Festival in Shanghai wouldn't be complete without a trip to Yuyuan Gardens. This tourist hotspot is transformed into a mesmerising display of colour, as lanterns float around the water, buildings and lanes. Entrance is free, so be prepared to fight your way through crowds!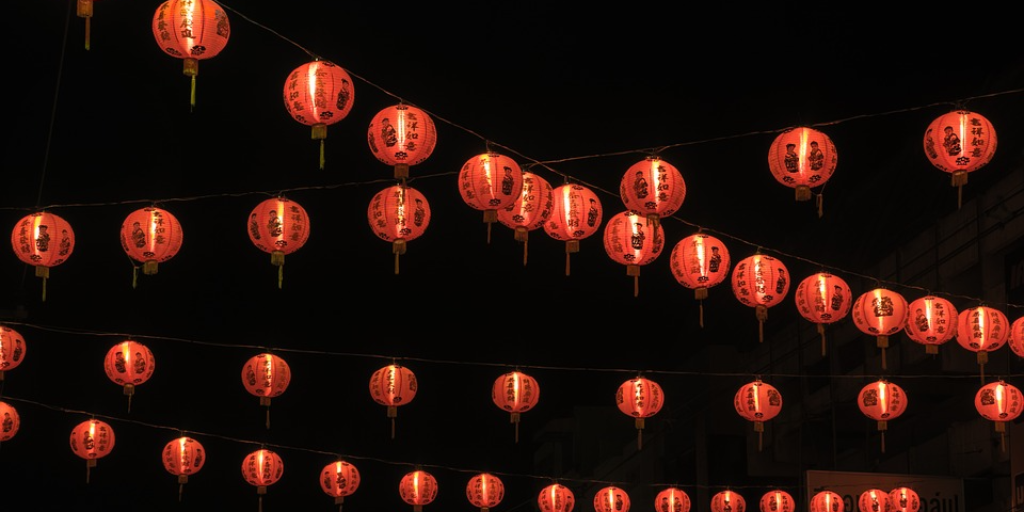 Beijing
The vibrant capital probably springs to mind as the best place to celebrate Spring Festival, and with good reason. Throughout the period leading up to the new year, until late into New Year's Day, you'll hear firecrackers going off everywhere, as locals ward off bad spirits. On the Eve, you can enjoy incredible firework displays in various spots around the city.
The historical capital is famous throughout China for its colourful temple fairs that take place on the first day of the new year. These are one of the most typical ways to celebrate the day in Beijing, with origins dating back to the Liao Dynasty (907 – 1125). One of the longest-standing and popular is the Ditan Temple Fair. Join crowds of Beijingers braving the cold to watch lion dances, folk performances, drum shows and parades to welcome in the new year at the Temple of Earth.  You'll find an array of stalls selling local snacks and arts and crafts.
If you're sticking around for a few days, hop on a train to Longqing Gorge for the local Ice Festival. Though far smaller than the one in Harbin, it's a great alternative and very impressive!
Xi'an
One of China's four ancient capitals and the capital of Shaanxi Province, Xi'an is full of history and culture. Its rich heritage and ancient tradition is reflected in the city's New Year celebrations that take place around the city each year. As in Beijing, temples across Xi'an host traditional fairs, which bring together classic features of Chinese New Year. By far the most popular and worth visiting is the Tang West Market. Here, local folk perform puppet shows, shadow plays, sugar paintings, embroideries, acrobatics and other classic arts. The Tang West Market will give you a true taste of how people in Shaanxi Province celebrate Spring Festival.
The famous Xi'an City Wall is the place to visit for the Lantern Festival. Enjoy vibrant displays of colour, as the wall lights up with various animals and characters made from lanterns. Another must-see spot for Lantern Festival celebrations is Tang Paradise Spring Festival Light Show. As the largest land and water lantern display in northern China, this is a great way to end the festivities.
Harbin
The capital of China's most northernmost province, Harbin offers a unique twist on Spring Festival celebrations that's becoming increasingly popular. Taking advantage of its below-freezing temperatures that drop as low as -24°C in winter, the city of Harbin lays on an annual Snow and Ice Festival like no other. Ice sculptors from across the world gather in Harbin to build an ice village measuring 750,000 square meters. Visitors can enjoy ice-lantern displays, winter activities on the frozen Songhua River, and on-ice performances.
Besides the ice festival, Harbin has a lot to offer. Head to the picturesque Central Street for cultural performances, markets and activities. You might even get to see a yangko dance performance – an infectious and colourful traditional dance performed by northern Han Chinese people.
Remember to take warm clothes!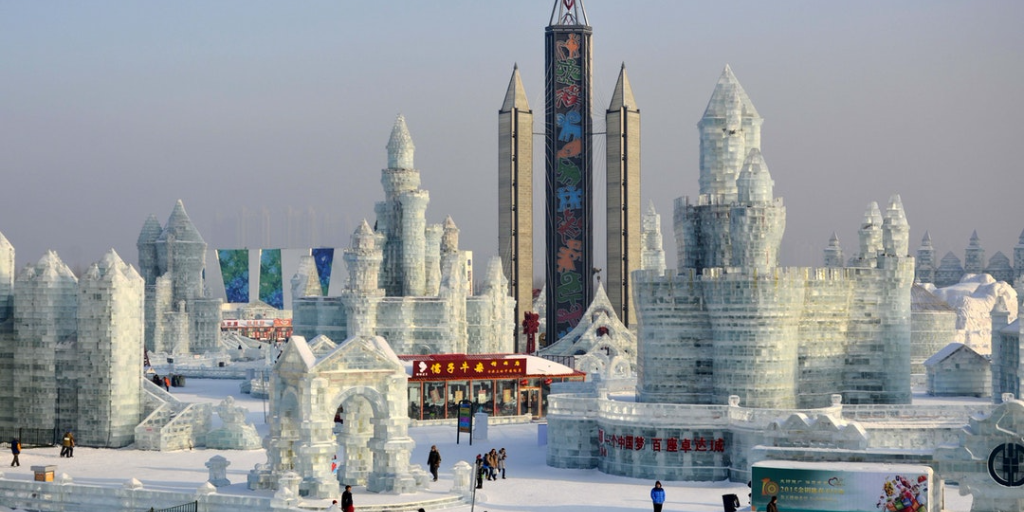 Guangzhou
Located in South China, around 2,000 miles from Harbin, Guangzhou enjoys lows of around 9°C at this time of year. Owing to its subtropical monsoon climate, the capital of Guangdong Province is known throughout China as "Flower City". Each year, the streets of Guangzhou fill with colour, as flower fairs pop up for locals to enjoy. This tradition, dating back over 500 years, is so important in the region, that an old saying goes "No flower fairs, no Spring Festival." As well as gorgeous flower displays, visitors can enjoy lion dances, folk performances, and locals works of calligraphy.
Guangzhou has its own take on the traditional lantern festival that marks the end of the Spring Festival celebrations. Head to Canton Tower to watch over 1,000 high-tech drones take to the sky to create a spectacular light show. If you're searching for a more conventional way to end the festivities, Yuexiu Temple has the answer. Here you'll see various traditional arts and beautiful lantern displays.
Nuanquan
If you want to get off the beaten track and join in with local celebrations, Nuanquan is the place to go. This ancient town located in the northern province of Hebei is home to less than 20,000 people – a mere village by Chinese standards. Though a recognised national scenic area, Nuanquan doesn't attract all that many tourists… until the Spring Festival period that is.
Recently, the city has become known for its old Spring Festival tradition, dubbed the most dangerous firework display on earth. "打(dǎ)树(shù)花(huā)" ('beating tree flowers'), is a traditional performance with a history of over 500 years. Wearing nothing but a wide-brim hat and sheepskin vest for protection, brave blacksmiths hurl molten iron against the old city wall. This forms an explosion of sparks that create a spectacular display of golden colour. Said to have originated as an affordable way for locals to enjoy fireworks, it doesn't get more local or historical than this.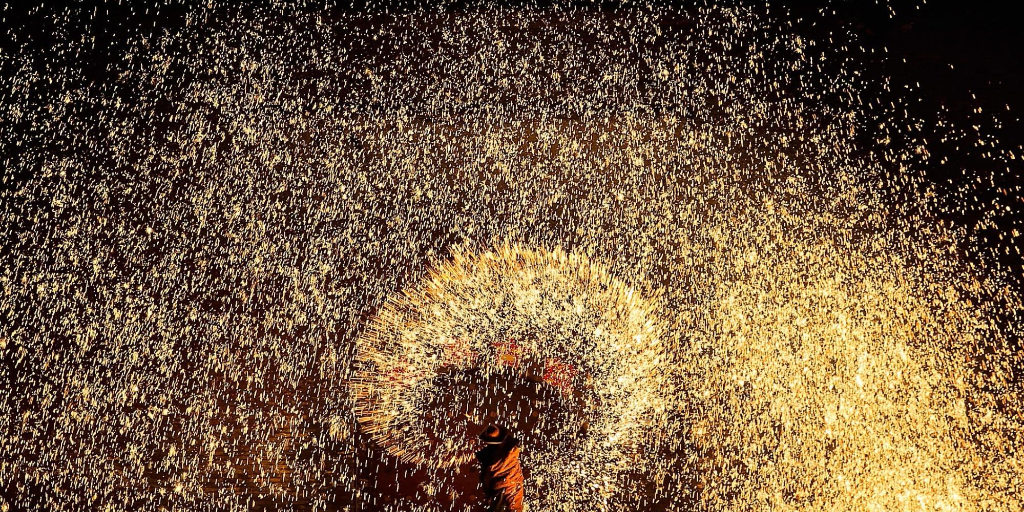 Hong Kong
Spring Festival in Hong Kong is very much 'on the beaten track', but that's certainly not a bad thing as Hong Kong locals know how to celebrate in style! As in Guangzhou, flower fairs form an important part of local tradition, and are a must-see for anyone in the city over this period. Head to Victoria Park or for some of the most impressive exhibits.
Spring Festival in Hong Kong wouldn't be complete without watching the spectacular NYE firework display at Victoria Harbour and the International Chinese New Year Parade. The parade, which runs for 1.5 hours through the streets of Tsim Sha Tsui, is a colourful display of music, dance, acrobatics, folklore, martial arts and well-wishing and a great way to see how the locals like to celebrate. To top off your Hong Kong Spring Festival, visit the Sha Tin Racecourse for one of the seasons most popular events. Besides horse racing, the day promises traditional festivities like lion dances, and new year greetings from well-known jockeys.
Hong Kong also hosts a number of temple fairs, where locals pay their respects to ancestors or pray for good fortune. This is a great way to enjoy traditional celebrations from outside mainland China.
No matter where you choose to see the Lunar New Year in, you'll see vibrant displays of local culture. If you've decided where to go, it's time to figure out transport – check out our guide on buying train tickets in China.