Sheree Hooker (2013-2014 paid teaching programme)
Career after China: Freelance Travel Blogger
Why China?
In all honesty, I still don't really know what it was that made me decide to teach English in China. I had spent three years studying Criminology at University and had never considered a teaching career. It would be fair to say that I didn't really know what I wanted to do with my life. I had always enjoyed travel and definitely wanted to see more of the world, although I had never had the funds to do so. Teaching in China was a great opportunity for me to discover a new place and try something I had never done before.
Teaching in China
During my time spent in China, I worked at a private language institution ran by English First. Primarily I was based in one of their Wuhan offices, though twice a week I did outside teaching at a state school. The students ranged from ages 3 to 14 years so the job was always interesting and I was constantly learning and growing as a teacher.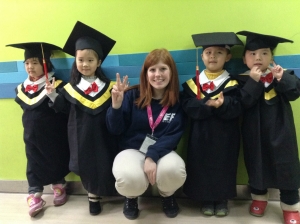 Originally the vast majority of my classes were with young learners, so I quickly developed a teaching style to suit this. Perhaps the biggest challenge for me as a teacher was the need to adapt my methods to suit older children. Fortunately, there was a great support network at my school and I was able get my colleagues to observe my classes and gain valuable feedback to refine my skills. This increased my confidence when teaching older students and allowed me to create a good rapport with them, something that was particularly rewarding for me because of how I struggled with this initially.
My year in China was undoubtedly one of the best years of my life: it sparked my passion for travel and introduced me to some amazing people who have become lifelong friends. China is where my heart is and has been the catalyst for everything that has happened in my life since.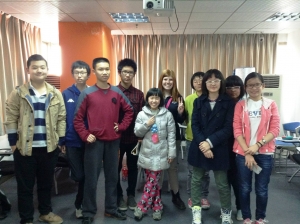 Life After China
Despite being offered a second year contract during my time working at English First, I decided to tick off some of my to do list at home. I started driving lessons and tried to figure out what my next step would be. I found it hard to readapt to being home and struggled to move on with my life in the UK. During this time I met my partner, Tim. Together, we decided to quit the 9 to 5 lifestyle and go travelling around South East Asia. As we backpacked around six countries, I started an online blog documenting our adventures. Surprisingly, it was a hit and ended up having several readers at home. Mostly it was just family and friends but the seed was sown. After months backpacking, we reluctantly returned home and started looking for jobs to fund our next trip. We had barely got our feet under the table before a fantastic opportunity turned up. A company based in the Alps were looking for ski chalet hosts to start as soon as possible. Although I had never skied before I thought I would give it a shot. The interview process was done via Skype, something that I had experience of from my application to teach in China, and in just two days we were bound for France.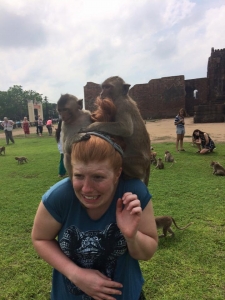 How has your experience teaching in China influenced your job prospects?
Moving to China is undoubtedly one of my proudest personal achievements. It was the first time I flew unaccompanied, the first time I visited Asia and the first time I immersed myself in a totally different culture. It has also proved to be invaluable professionally. In all of the interviews I have had since working in China, this experience has always been a talking point and something that impresses employers. I am most commonly asked how I adapted to the culture shock of living in China as well as dealing with the language barrier. It always seems to surprise people that you can prosper in a society when you are not fluent in the language! Another popular question is what I learnt from my time in China. This experience showcases my adaptability, independence and confidence to take on new roles and responsibilities which are skills all employers desire in their workforce. Most importantly to me, this opportunity ignited my passion for travel which has shaped my life ever since.
What do you do now?
Since finishing the ski season working as a chalet host, I decided to continue with my writing and did some freelance guest blogging for other travel publications, including 'South East Asia Backpacker Magazine'. After starting work at an online board game company, I decided to make my dream a reality and put together my own travel website, wingingtheworld.com. I set up Winging the World as an online resource for other people who want to travel but are perhaps scared to take that first step and don't know where to start. The site includes information about working abroad as well as my own experiences of winging it whilst I travel.
I am yet to return to China but I hope to do so in the not so distant future as I feel I have barely scratched the surface of what this amazing country has to offer. Currently I am working on a few articles from a recent visit to Morocco whilst I save up for my next big adventure: an extended trip around South America. As is my style I have no end date for the trip and plan to wing it as I go along. Tim has recently completed his TEFL qualification so we will be looking to pick up some teaching work to finance our travels. It will be strange to get back in the classroom but I am keen to see the differences between teaching in Asia compared to South America.To keep up with my escapades abroad, check out the website and subscribe for updates. Maybe I'll see you on the road!