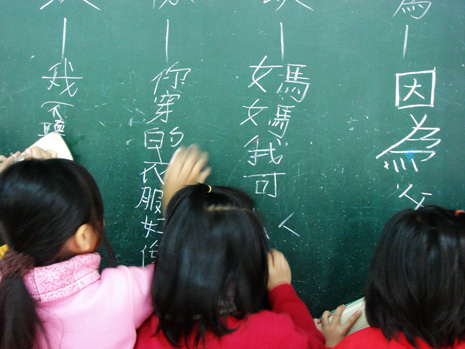 What it particularly striking about the young children of China is their fevering ambition to become something. Not just anything, but something big. Their passionate fire can be seen within schools as well as outside of school in their everyday lives. Whether its businessmen or writers, doctors or lawyers, ambition is high in the People's Republic. As far as career ambitions within the medicinal sector goes, alterations in both the Chinese medical system and compensation of medical doctors have meant that the career aspirations of Chinese medical students have become more diverse. Shantou University Medical College has conducted evaluations and instituted programs to enhance student preparation to enter a variety of medical careers. A survey was conducted to assess the medical career ambitions of 85 students and their association with family background, personal skills, English language proficiency, and interest in biomedical research were all considered factors affecting their career goals. It was found that Chinese students aspire to do both traditional as well as non-traditional medical careers.
It must be noted that a substantial minority of students are now interested in non-traditional careers such as medical teaching or research. Nevertheless, poor displays of aptitude in the English language as well as a sufficient lack of computer skills may limit the academic and career opportunities of many young Chinese students. Career ambitions have also changed among medical undergraduates. Although many still wish to pursue a traditional "clinical doctor" career, many are now interested in research and teaching careers. The factors discussed above as well as extracurricular support may have played a role in this shift in medicinal focus.
China's career ambitions do not stop with the children, but can be seen to continue into adulthood. With the Chinese Leaders boasting boosts in the Chinese economy over recent years and observations of immanent decline of the US economy and its not-so-powerful-anymore dollar currency, China looks set to overtake the US as a leading world superpower in the not-too-distant future. One word that symbolises China, particularly in the East, is construction. Shanghai has grown immensely in just a 20-year gap and is rising as city of intense energy and ambitious symbolism. China's ambitions are great and great they will seem to be in years to come.
Although Chinese ambitions can be seen through its children as well as a country, they also shine through the Chinese military. China's first aircraft career in the Navy ran its first trial on August 10th, 2011, made by the Chinese naval department. This was clearly an action intended to build up China's military power and prestige, craving recognition. In Beijing, several disputes have arisen regarding the South China Sea and Indian territorial boundaries. This hunger for military and political superiority has rubbed off on the younger generation, who want to be a part of one of the richest nations on the planet, overtaking 'the West' and its allies. Neighbours of China are particularly worried as China's focus on artillery and developing defence technology is causing a growing vision of anxiety in others making up the international sphere.
In Beijing, checking capabilities, training and research analysis is going on. China's military power compared to the US is limited, but in the last five years, there has been rapid expansion and support on making and designing artilleries. China is the world's most manpowered country and China's targets on military development have instilled great fear among other countries.
Mao Zedong, more often referred to as Chairman Mao, once famously proclaimed that "women hold up half the sky", but to many of today's Chinese career women, it feels as though their high-flying career ambitions have feet of stone in treacle. "Yeah, we hold up half the sky," recently stated a female senior manager for a multinational pharmaceutical company, "but there are 5,000 years of history dragging us back". She and more than 125 representatives of multinational and Chinese-based corporations gathered in Beijing recently to learn the results of a new study by the Center for Work-Life Policy. But even as the conference celebrated the "many strengths highly qualified Chinese women bring to their employers", participants of the celebrations were quick to recognise the forces threatening full employment of this vital bowl of talent.
"There's a huge price to pay for family values," implied Cezary Statuch, Vice President of Medical Emerging Markets at Bristol-Myers Squibb. It has been said that "every woman in China knows that being a good daughter or daughter-in-law unquestionably trumps satisfying personal career ambitions, no matter how successful that career may be". This view is not only observed in China but can be noted in British and American society too. "In our culture, we take care of our parents," says one executive in the financial sector. "Whenever they need me, I will be there". This includes relocating to be near them (as this woman plans to do), taking a less-stimulating job to free up time to spend with them, or leaving the workforce entirely.
It is for these reasons that many women in the Chinese workforce feel compelled to choose between their personal family lifestyle and their career as the Chinese conscience seems to be that personal affairs compromise their prospect of a successful work and business career. It could be said that this view is slightly exaggerated as J. K. Rowling, dubbed "the most influential woman in Britain", managed to publish seven Harry Potter volumes while also going to teach over in Portugal, marry a Portuguese television journalist, have a daughter, Jessica, divorce her husband and return to Britain when Jessica was just three months old and go to live in Edinburgh to be near her sister, Di. Despite having a family and a personal life, she is still an extremely successful career and businesswoman. There have even been speculated rumours surrounding Rowling suggesting that she owns more money than the Queen.
In China, among the 1,000 men and women surveyed by the CWLP (Centre for Work-Life Policy), 95% of women already have elder care responsibilities. Every woman interviewed knew someone who put her career on hold to care for an aging relative. Adeline Wong's story is typical. When her mother and aunt fell ill a few years ago, Wong left her job with one of the top venture capital firms in Taiwan. She stated "it was a very good career, but I quit and spent several months taking care of them". Was this a choice or bare necessity? Every case is different. However, more than half (58%) of Chinese women also provide financial support to their parents or in-laws — an average of 18% of their annual income, the CWLP data also shows. In China, where state support for the elderly can't keep up with the soaring cost of living, contributions from adult children and other siblings in the family aren't only appreciated, but necessary.
The pressure of being a good daughter or daughter-in-law can be crushing as "daughterly guilt" affects an extraordinary 88% of the women surveyed. Adding to a high-achieving woman's burden, China's one-child policy, implemented in 1979, means that women in their twenties, thirties, and early forties have no siblings to share the load. Some would argue that the one-child policy could be having a grave impact on the success of China's female workforce. Additionally, China's rapidly aging population, (similar to that of the UK, France, Italy and Portugal as well as other parts of Europe), will only intensify the existing problems facing China and the subsequent lack of career ambition, particularly among females.
It's not just caring for the elderly that's affecting Chinese women. Motherhood magnifies these issues further. Julia Zhu, a senior manager with Sodexo China (a world leader in Food and Facilities Management services), who drops off her two-year-old daughter with her in-laws every Sunday evening and picks her up on Friday says, "of course, I miss the chance to be with my daughter, but working mothers have to focus more on work". It is becoming obvious that the work ethic and thus career ambitions in China differs from case to case. Still, despite such simplicity implicated by Julia, even very ambitious women acknowledge feeling torn between their career and their child with 86% of women feeling maternal guilt at some point in their lives.
Pully Chau, Chairman and CEO of 'Greater China Draftfcb', claims that Chinese women have what she calls, "a cultural inheritance for multitasking", and indicates that "we're used to being good moms, good daughters, and good leaders. That makes us able to sustain high performance in tough times". In this sense, she seems to suggest that motherhood should enhance career ambitions and performance. "Still", she concedes, "we need the little compromises".
Despite this, China is witnessing a rapid pace of change within its social, political and economic landscape and offers an opportunity for forward-thinking companies to gain competitive advantage with female-friendly policies. Among the suggestions and solutions is the concept of "flexitime", which is still relatively alien to China, despite its other modern advances. One way to remove the stigma associated with flexible work arrangements, suggests Rosalind Hudnell, Chief Diversity Office Director for Intel, is to "detach it from working mothers and telecommuters, and apply 'intermittent flexitime' that could apply as much to someone whose job entails late-night telephone calls to California as to someone dealing with ailing elders".
Denice Kronau, who is Siemens' Chief Diversity Officer, adds that "flexible career paths would also be a huge help to women torn between career and family care". Opportunities for re-entry after taking a break are virtually non-existent in Chinese society at present. Women sadly joke that "the chance of finding a job after dropping out of the market is even smaller than that of finding a wealthy husband".
Bessie Lee, CEO of GroupM China's suggestion is to "get the entire family involved" in the woman's career. Her company regularly invites family members to show-and-tell sessions where the family of the woman in question works and helps them to see and learn about her work environment. Such events create a clearer picture of what the woman's work entails and emphasises the message that what she is doing is "valuable and worthwhile", as China's educated women have an incredible amount of talent to offer their employers.
By Mary Isaac (worked in Shaoxing, summer 2011)