Beijing, one of China's ancient capitals, is an eclectic mix of old and new, as historic buildings and
modern infrastructure battle it out for predominance on the skyline. Unlike Shanghai however,
there is no clear winner, as Beijing manages to retain a degree of charm which emanates from the
centuries old hutong way of life that still manages to dominate certain areas of the city. This lifestyle,
having survived the destruction of the Cultural Revolution and the recent fast paced acceleration
of the country into modernity mostly intact, clings on alongside change to create a truly unique
atmosphere.
Beijinger's see themselves as living at the centre of the world, but despite this arrogance or
maybe because of it, they still find time to take it easy, relaxing in the streets, strolling through the
alleys and gorging on delicious street snacks; dispensing with the hustle and bustle that seems to
permeate the majority of modern China. Having long been the political and cultural heartland of
China, Beijing provides much for the traveller to see and ample opportunities for fun or relaxation.
You can lose yourself for days walking through the narrow hutongs (small alleyways), simply
admiring the easy going Beijing way of life whilst the mix of renowned historic sights (such as the
Forbidden City) combine well with the city's new landmarks, like the Bird's Nest Stadium, to create a
truly diverse yet all encompassing cultural panorama of China. The city itself also serves a great base
to explore the surrounding provinces and is one of the best places to reach the iconic Great Wall
from.
Where to Stay in Beijing
Beijing has much to offer the traveller in terms of accommodation, from great hostels for the budget
backpacker to 5-star luxury for high rollers and everywhere in between.
For backpackers, a huge selection of cheap accommodation is available near Tiananmen Square,
in the Da Zha Lan Hutong Area, a ten minute walk from Qianmen Subway station, and possibly the
most central part of the city to be situated in. Close to Beijing's major historical sights and with easy
access to the subway system, this area serves as a great base from which to explore the city, whilst
also providing much in the way of entertainment and nightlife, with the chance to meet other like
minded travellers at the hostels and nearby bars.
Most hostels in the area charge between 50 and 70 yuan for a dorm bed per night and have great
amenities on offer, with restaurants, bar areas and wifi all coming as standard.
Most hostels here will have English speaking staff and will be able to help arrange onward travel and
accommodation throughout the rest of China and detailed information on Beijing itself. Below are
a selection of recommended hostels in the Da Zha Lan Area, all of which are situated within walking
distance of one another:
Leo Hostel ( http://www.leohostel.com/), Guang Ju Yuan, 52 Da Zha Lan Xi Jie, Beijing
Leo Courtyard Hostel (http://www.leohostel.com/LCLH2.html), Xuanwuqu Zhushikouxi Dajie
Shanxixiang 22, Beijing
Emeperor Guesthouse: (http://www.hostels.com/hostels/beijing/beijing-emperor-guesthouse/
34903), 11, Ying Tao Xie ie, Qianmen, Xuanwu District, Beijing
365 Inn: (http://www.hostelworld.com/hosteldetails.php/365-Inn/Beijing/16667), No. 55 Da Zha Lan
West Street, Xuan Wu District, Beijing
During high season and Chinese national holidays, it is advisable to book ahead, which is easily
accomplished online.
Eating
Beijing has a lot to offer for the culinary adventurer, from the staple noodles and rice so associated
with oriental cuisine to the ubiquitous chicken feet, the obscure snake skins or hauntingly delicious
dog kebabs. Whether you choose to be adventurous or prefer to stick to what you know Beijing
abounds in plentiful dishes for everyone.
Beijing, as a cultural hot pot, serves up a plethora of different tastes with influences from all over
the country readily apparent. While this results in the city having its own distinctive dishes, there
are also vast numbers of restaurants serving food from the many provinces of China, from the
Cantonese dishes of the south to the Muslim orientated food of the far West provinces. And of
course if none of these appeal there's always a McDonalds or KFC on practically every street corner,
both of which have 'happy hours' around lunch time when a big mac meal only costs 15 yuan (about
£1.50).
Street Food: Found throughout the hutongs across the city, street food vendors serve up a variety
of delicious snacks all hours of the day. Anything from dumplings, to barbecued chicken hearts on a
skewer, it's all good. Some of the tastier Beijing specialties are the pancakes, cooked up with chilli
and different meats.
Beijing Food Bazaar: This large outdoor food market is essentially one large collection of street food
stalls stretching along the road. A bit pricier than you'll find in the hutongs it is does however offer
some interesting, different foods perfect for the adventurously minded traveller wanting to try the
weird and exotic. This market offers all manner of Chinese 'delicacies', from simple noodle dishes to
an endless array of insects: silk worms, scorpions, crickets and spiders to name a few. You'll also find
other interesting dishes, such as snake skin, starfish, monkey kebabs and dog kebabs. A great place
to try all the food you'd never dare to back home. Situated east of Tiananmen Square on Wangfujing
Street. This street runs into one of the main shopping areas of the capital, and many more local
Chinese delicacies can be found down the small streets branching off this road.
Urumqi Restaurant: This Muslim restaurant serves what is, in my
opinion, and the opinion of many other travellers, the best food in all
of China, or at least Beijing. A bold claim perhaps, but the food is truly
on a different level to many other restaurants, due in part to its
unique, western Chinese menu which makes a change to the Beijing
flavours and is heavily influenced by a combination of central Asian
spices and Chinese spices. Serves a wide variety of dishes, from
Xinjiang province. The deep fried eggplant is a must try as are the
lamb kebabs, noodles and Xinjiang dark beer (Da Zha Lan West Street,
Xuan Wu District, Beijing). You'll be guzzling down chicken gizzards
and relishing sheep stew all night long.
Helen's Bar and Restaurant: Serves decent western style food for those that need a break from
chopsticks. Also has a great selection of Chinese food, including curried rice and noodles at very
affordable prices. Situated next to 365 Inn it tends to function more as a bar during the evening than
a restaurant (Da Zha Lan West Street, Xuan Wu District, Beijing).
Must Try Dishes:
Peking Duck: Found across the world, it's nevertheless only in Beijing that you get the authentic
taste. The best place to try this is one of the many local Beijinger run restaurants down the hutongs.
Roasted and served with plum sauce and pancakes.
Dumplings (Jiaozi): Great as a snack or part of a meal, come in all varieties, meat or vegetarian.
Kebabs: Served up everywhere. Chicken hearts became my personal favourite! Kebabs will only set
you back around 1-2 yuan a stick and range from lamb and chicken meat to gizzards, tendons and
kidneys. Be adventurous and try all you can, the last one you expect to taste nice may well become
your favourite.
Drinking
Beijing has everything to offer the drinker and party goer from cheap, street-side beers to
expensively flamboyant cocktails in high end clubs and establishments.
When the Chinese drink they drink hard. One word you will quickly become accustomed to when
drinking with the Chinese is 'Ganbei', which translates literally as 'Dry Glass'. A form of toasting
essentially, which results in you having to down the entire glass in one. Drinks are however drunk
out of smaller glasses than back home.
In Beijing, most western drinks will be available but obviously at inflated prices, especially in
comparison to the local drinks. A beer from a local restaurant will cost from 3 to 10 yuan for a
large bottle. The local beer is Yanjing, a Beijing brew, found on tap in many places whilst bottles of
Tsingtao, China's most famous of beers are available everywhere.
The other local favourite is the fiery Chinese vodka, which starts at 10 yuan in price for a bottle of
what is essentially paint-stripper and increases in price depending on quality, although how much
better a 60 percent spirit can taste I do not know. This spirit can be purchased in most supermarkets
and shops. The Chinese drink it straight and a night can become extremely intense extremely quickly
when the ganbei begins with this drink.
Bars
Da Zha Lan West Street: The heart of the Beijing backpacker scene, this street, home to many
hostels, is also home to a large number of bars. Frequently restaurants along here will double up as
places to drink and the lively street restaurants will keep a continual supply of beer flowing for their
customers late into the night.
Helen's Bar: Already mentioned under restaurants, Helen's is the liveliest bar on Da Zha Lan Street.
A great mix of teachers, travellers and students congregate here every night of the week drinking,
swapping stories and talking about the state of the world until the early hours of the morning. The
music playlists range from salsa to club music, the drinks are cheap and no night is the same.
Sanlitun Bar Area: Entire streets devoted to the cause of drinking, this is Beijing's premiere drinking
region. An area popular with expats, young Chinese and students, home to a great variety of bars
and clubs catering for all your needs. Drinks here will on average be more expensive than other
areas of the city, but it's a great place to meet and drink with English speaking locals and expats.
Chaoyang District, Beijing.
SIGHTS AND ATTRACTIONS
Forbidden City: Once the abode of China's emperors, and now a major tourist draw. The scale and
the oriental grandeur of the 'city' is staggeringly impressive, but as with most Chinese tourist spots the
number of tour groups also becomes unimpressively staggering. To escape the throngs a great spot
to visit is the temple atop Jingshan Hill, directly opposite the north gate, for outstanding views of the
Forbidden City and the rest of Beijing.
Tiananmen Square: The people's square, the largest public square in the world, also has one of
the highest densities of CCTV and security anywhere in the world. A must visit, even if it's just to say
you've been there, it's great fun to simply stroll through the crowds of Chinese tourists seeing how
many of them try to photograph you or ask you for a picture. Watch out for the not so well disguised
secret plain clothes police who tend to march around in small formations with umbrellas in hand for
some bizarre reason.
Summer Palace: On the outskirts of the city, this tranquil retreat can find you in either isolation or on
the tourist trap. Stay away from the lakeside, where the tour groups descend in droves and instead
head into the interior, along the small paths and rivers to find the picturesque areas where locals fish
in the sunshine and perform taichi atop small hills and temples.
Hutongs: The hutongs are where you'll find Beijing life at is simplest and most enjoyable. The
hutongs, essentially small alleyways, are the lifeblood of the city, providing an interconnecting network
across the capital that teems with local life, restaurants, families, men playing cards in the streets and
people barbecuing at night. Take in the sights and smells, you can stroll around for days, surrendering
yourself to this serene manner of city living.
Bird's Nest Stadium: One of the modern symbols of the city, easily reached from subway line 8.
Designed and built for the 2008 Olympics, once inside you may become confused by the sight of
Chinese visitors racing around the track on Segways. Some interesting exhibitions are to be found
dotted around the stadium. Head out of the Bird's Nest into the Olympic village too, which is teeming
with life and an extraordinary number of kite flyers. The whole area looks spectacular when lit up at
night.
Great Wall: An ancient proverb declares that you are not a real man until you've climbed the Great
Wall and the Great Wall does live up to its hype. It's an unbelievable monument to human ingenuity
and engineering and when you stand atop one of its many towers you can't help but feel slightly bad
for the Chinese that it never once managed to do its job properly. The wall stretches for thousands of
miles, and from Beijing many segments can be reached on a day trip. Scrap the tours and make your
own way, public transport runs to most of the spots but its best to check online or locally which buses
to take and when for up to date details. The easiest spots to reach are the most crowded so it pays to
put some effort in. Badaling is a restored section where the tours head and is best avoided. Mutianyu
is also a restored section but head onto the ruins at the end and you can walk for ages admiring
the rugged hilly landscape and the ruins of the wall in peaceful solitude. Mutianyu is reached by a
combination of public bus and mini bus.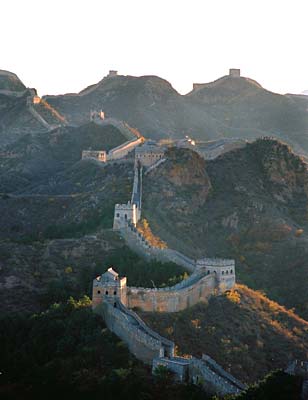 Dragon Gorge (Long Qing Xia): A magnificent, natural gorge outside of Beijing. Take a bus past
Badaling, then get off in the next town and take a taxi to the entrance. The only way to really see it
is on a boat ride, which will cruise you along the turquoise, emerald coloured waters while you sit in
awe at the natural crags rise above you and surround you. The best part is the bungee jump which
plunges you towards the river. How safe it was I don't know but it was certainly exhilarating.
Markets: Beijing is a great place to load up on cheap purchases. Markets dot the city, selling
electrical goods and cheap yet extremely convincing fake products, sunglasses and designer bags
and clothing. At all markets, it is essential to haggle and haggle hard. The sales girls will start at
ridiculously high prices and you just have to be patient and enjoy the backwards forwards battle
until you arrive at an acceptable price. The actual price will generally be as low as ten percent of the
original asking price, if not lower.
Hong Qiao Pearl Market: Next to the Temple of Heaven, south of Tiananmen Square on subway
line 5. This epic, 5 storey indoor market has everything you could ever dream of purchasing. It's
aggressive, crowded and there's a high chance you'll get ripped off if you're not careful. Intense
bargaining is commonplace, but once you get the jist of it, it can be great fun and terribly satisfying
when you get a good price.
Transport
The Olympics resulted in an upgraded Metro system for Beijing and so getting round the city is a
stroll in the people's park. A flat rate of only 2 yuan is charged for each journey, aside from the
airport express which charges 25 yuan each way. Subway maps are available everywhere and signs
and announcements are in Mandarin and English. All of the city's main sights have a subway stop
close by and it is the simplest, most efficient way to get around the city.
Inter-City: As the nation's capital, Beijing's transport links are obviously abundant. The recent
High Speed Rail will get you to Shanghai in only 5 hours, the same time as a flight when you factor
in waiting times. The High Speed is ultra-modern and ultra-efficient and can be taken as far as
Hangzhou in the south. To the East it branches across to Tianjin and also to Qingdao, home of the
famous Tsingtao beer brewery, a journey of about 4 hours. There are numerous long distance bus
links and train links. The cheaper options, i.e. the slower options, tend to book up quickly so forward
planning may come in handy, especially if you plan to travel on weekends.
Shanghai: 5 hours on High Speed, 12 hours by bus or slow train
Xi'an: 20 hour sleeper train
Qingdao: 5 hours on High Speed, 10 hours by bus or slow train
Tianjin: 1hour High Speed
Hong Kong: 2 days
Beijing also has numerous international train links. For many it is the end or start of the trans-
Mongolian or trans-Siberian railways which extend from Europe. Ulaanbator, Mongolia's capital,
can be reached as can Russia. From Beijing, trains also extend south towards Hanoi in Vietnam and
across the country to Lhasa in Tibet.
By Richard Collett (spent time in Beijing summer 2011)