About Cixi
This is a quick guide into part of the city of Ningbo which is located within the province of Zhejiang; it is right on the coast and borders Shaoxing and Taizhou. Ningbo means 'Serene Waves' and is one of the oldest cities in China. Ningbo is separated into 6 districts, 3 cities and 2 counties. I stayed in one of the county-level cities, Cixi which is a main manufacturing city located 148 km south of Shanghai and 138 km east of from Hangzhou, where I spent the first 2 weeks of our stay in China.
Getting Around
Although we had just come from the capital of the Zhejiang province, I found Cixi to be far more busy 24 hours of the day and far less used to foreigners, more on that later. We stayed at the Milan Hotel in Cixi which was right next to a very busy Kaifa Avenue cross-roads (first lesson to learn about China, driving is quite erratic and both bikes and cars may not notice red lights so be very aware when crossing the road….and be prepared to run!) which had the Hongyuchun hot-pot restaurant underneath which was delicious and for the equivalent of £4.00pp for all you can eat and drink, safe to say, very cheap! The cross –roads turned out to be our links to wherever we wanted to go, to the right it took us on our 10 min walk along Huchong Highway to the High School which we taught at, on the way we passed a few science factories and offices, a mechanics and a eco-friendly electric bike shop and as well as street vendors from who we bought our breakfast most mornings; they had a lot of different foods on offer from soups, buns filled with various sauces, meat and salad, an omelette looking item, even a mini restaurant which served different noodle based soups and my personal favourite, the man who sold a doughy-type slice topped with spring onions, seeds and his secret hot sauce, all for the equivalent of 10p?! We think he also took a liking to us as he gave us 2-4-1 on our final day at the school and winked! The main buildings i.e. the schools and the hospital were all located on the main Mingzhou Road so were always easy to find even at 7am in the morning while still sleepy!
Things to Do
Opposite the hotel was a Century Imperial family foot massage salon which for the equivalent of £8 gave amazing foot and shoulder massages for a whole 40 minutes and had rave reviews from all teachers who went there for a bit of relaxation after a long day at work! One night we of course tried out KTV which was only a 15 min walk south along Huchong Highway and we had an amazing and hilarious night of singing and dancing like no-one was watching!! Finally, was Kaifa Avenue going west, which took us on the 2 min walk to our nightly hangout, the Ruyi shopping mall! This seemingly 24hr mall had an amazing dumpling café, 'Kung-Fu'- a fast food restaurant, western shops such as Nike as well as clothing shops selling hilarious t-shirts and of course, the RT-Mart, an equivalent of Wal-Mart/ASDA which sold everything and I mean EVERYTHING! Now as I mentioned earlier, the city of Cixi is not as accustomed to foreigners 'la wei' as Hangzhou was and nobody seemed to have a great understanding of personal space so when wandering around the supermarket we were stared at a lot, people would come quite close to your face, take pictures and stare in our baskets but you swiftly become used to it and just smile and walk on, do funny faces when people take pictures and it becomes quite a fun game! About 15 minutes away by taxi was the main Shanglin Fang (上林坊)shopping street which had everything you would need, touristy shops, clothes shops, hairdressers, a park (which we had far too much fun at!), a cinema showing some English movies such as 'The Avengers' and of course, a KFC. One night, one our pupils took us to an outdoor swimming club with 3 pools where he works during holidays about a 30 minutes bus journey away if you were in the mood for a swim!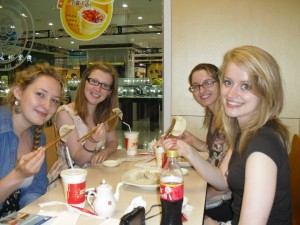 Dumpling café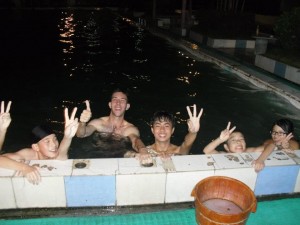 Outdoor swimming pool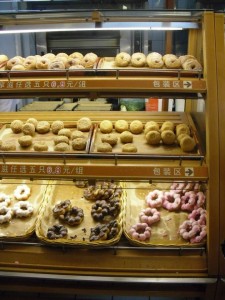 Bakery section of the supermarket
Transport
The hotel was in a prime position for getting the official green taxis which passed constantly. From a starting price of 8 Yuan (80p) it took 15 minutes to get to the Shanglin Fang shopping street mentioned earlier. It took a swift 10 minutes to get to Cixi Bus Station from where you can to Hangzhou in 1.5 hrs. for 48 Yuan and for 82 Yuan (£8.20) to Shanghai in only 2.5 hours which are handy for if you are flying from Hangzhou International Airport or Shanghai Pudong Airport as both Hangzhou and Shanghai bus stations then have airport link buses as well as official taxi ranks.
By Alexandra White (Worked in Hangzhou and Ningbo, Cixi, Summer 2012)