Xi'an is a city in central China very famous for it's proximity to the Terracotta Warriors, with over 8 million people living in the city around 4000 of them are foreigners.
Thanks to the city wall having 4 main gates named North, South, East and West, navigation around the city centre is quite easy despite the lack of English signs. There are many tourist attractions, good restaurants, bars and markets in the area and it's cheap to get around by bus, taxi or even motorbike taxi (if you're brave!)
The 4 sides of the city wall are very different and some are more foreigner-friendly than others;
North side – Although the North Street (which leads from the city centre to the North Gate) is a fairly bustling place with shops and small restaurants, once you go through the gate it seems to quieten down a lot, if eating out you might struggle to find places with picture menus or English translations, on the plus side this could lead you to discovering something delicious that you'd never think of trying before.
East side – This part of the city is packed with restaurants, small shops and big supermarkets, within the city wall is the well-known East street (Dong Da Jie 东大街)you can find souvenirs, crafts, clothes and snacks in many of the shopping centres not to mention the infamous nightclub '1+1'. Xingqing Park is roughly 10-15 minutes walk from the East gate and is a great place to relax, if you go in the morning you'll find many groups of people doing Tai Chi and even musicians go out there to rehearse most days so listen out for the sound of an 'Er-hu' or 'di-zi'!
West side and Gaoxin district– The area around the West gate is the newest (and probably cleanest!) part of the city, there are lots of Western restaurants a couple of Irish bars and the best hotels in town. There's a large shopping centre full of expensive clothes and a Starbucks, so if you're missing home comforts this is the place to go, bear in mind that you will probably end up paying Western prices in this area too.
South Gate and surrounding area – For a mix of Western and Chinese culture the South gate really is the best place to be, the streets are full of bars, really good street food vendors and restaurants that have pictures on the menus. The Defuxiang bar street is nearby and further down the main road towards the university area is Xiao Zhai (the Student city), the Baihui market is a maze of shops selling wacky clothes, electricals, counterfeit DVDs, you name it. Then the Big Goose Pagoda and Tang Dynasty are not far, another area full of excellent restaurants and quirky little shops, although this area tends to be more touristy than others.
Getting around Xi'an
Public transport is very cheap and readily available in Xi'an, buses generally cost 1-2 Kuai and a taxi to the city centre from the east side of the city will certainly be no more than 15, bear in mind the changeover times, when taxi drivers start and end their shifts as it's difficult to get a taxi then. Motorbike taxis are cheaper and Boom boom cars (you'll soon see where the name comes from!) are cheap although definitely not very safe, good fun though!
Shopping in Xi'an
For all of your basic food, clothes and toiletries there is a huge Walmart in the Lucky King Shopping Centre on Jin Hua Nan Lu, there are English signs and they even sell some Western brands (no cheese though unfortunately!) There's also Ren Ren Le supermarkets dotted around the entire city that are usually slightly cheaper and a market and mini-supermarket on down a little alley on Hu Zhu Lu.
For cigarettes, alcohol and snacks there are small shops quite literally down every street, follow signs for these characters 烟酒 most are open every day until midnight, if you can't speak Chinese be prepared to take a phrasebook or a pen and paper to draw pictures of what you want!
A visit to Xiao Zhai is a must if you're shopping for clothes, accessories, DVDs, CDs etc, jump in a taxi and tell the driver 'Xiao Zhai, Bai Hui' from the East side of the city it's quite a journey so expect to pay around 30 kuai. The Bai Hui market is a maze of shops and stalls selling pretty much everything you could ever need, not to mention the 3 floor book shop and other quirky little shops around the surrounding area known as Student City.
There are market stalls and a Western supermarket in the centre around the Bell Tower area, due to this area being very popular with tourists it's quite difficult for foreigners to get a good price.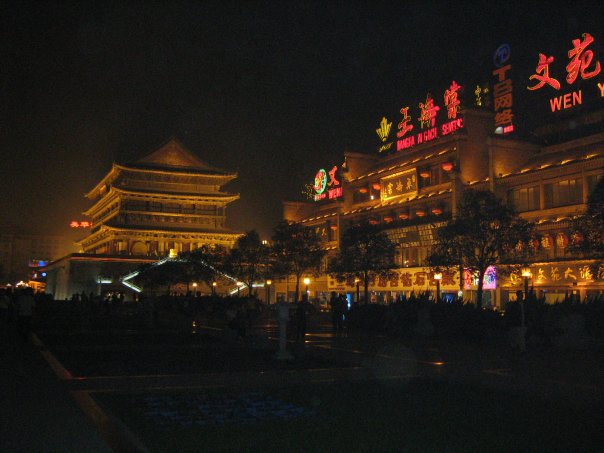 As with all shops or stalls that don't have prices on their wares, be prepared to haggle. Also in this area is the KaiYuan shopping centre and a loads of clothes and shoe shops, follow the loud techno music to find them! For real designer clothes head down to South street, for fake ones check out most other shops in the city.
Eating out
Whilst in Xi'an it is a great idea to try some of the local cuisine, the most famous dishes will be either dumplings or Chinese HotPot, both of which are delicious.
The HotPot restaurant on HuZhu Lu (互助路) has great service and is very reasonably priced, you can fill the table with good food for about 100 kuai, just be sure to take a fluent Chinese speaker with you and in winter try the warm ginger coca-cola. There is a restaurant in the middle of the market that serves tasty and cheap Jiao Zi (dumplings) and they even have pictures that you can point to when ordering food.
Another popular dish is the Chinese hamburger – rou jia mo (pronounced a bit like Roger Moore!) generally chopped up pork and peppers crammed into a small toasted bun, there is also a veggi version with spicy shredded potatoes but they're slightly less common, one of either should cost you no more than 3 or 4 kuai.
Street food vendors are generally around on every street at certain times of the day and serving pancakes, wraps, soups, noodles, deep fried bread with your choice of filling and also the dreaded 'Stinky Tofu'… which unfortunately lives up to it's name. If you're walking along and the air is suddenly filled with the foulest stench you can possibly imagine, then there's probably a Stinky Tofu stall around, if you can get past the smell it's actually quite tasty! Expect to pay anything from 1 to 5 kuai for a portion of street food, it's definitely worth trying a bit of everything if you can.
As for restaurants in the area you'll find plenty in the city that have English menus, there are many along the South Street that are reasonably priced and if you're missing Western food head over to Green Molly's in Gaoxin district, Xi'an's only Irish bar! Park qin bar at the Shu Yuan hostel by the South gate also serve reasonable Western food and regularly have Pizza nights, BBQ nights and 'Make your own dumpling' nights.
If you are in the vicinity of the Big Goose Pagoda, the bar and restaurant street is definitely worth a visit. Amongst the cafes and bars you'll find excellent restaurants serving various cuisines Korean, Japanese and Indian to name just a few.
For a great Chinese meal and a warm welcome head to 'Double Happiness' next to Gallop International English school, they have a picture menu and although the staff can't speak English they are extremely foreigner-friendly, you might even get an occasional free glass of Bai Jiu. The food is delicious and you can get an enormous meal for next to nothing, the staff are delightful and very willing to help you practice your Chinese.
Nightlife
With a range of cafes, bars and clubs to suit most tastes, it's difficult to find an excuse to stay at home in the evenings when living in Xi'an.
Most hostels within the city wall, including Park qin at ShuYuan hostel, have lively bars that generally stay open late and some serve food. Park qin is particularly good as they serve different kinds of food and the staff speak good English. If you're looking for a quiet bar to relax then head to Oscar's, near HePing gate (not far from the East gate), it's popular with foreigners and locals and they have a good selection of wines and beers, not to mention a Western toilet!
If you're musically inclined head to either one of the many KTVs in town or down a small road on the right inside of the South gate, on the left you will find a magical little bar with seats outside in summer and a cosy fire pit in winter. There's usually live music, drinking games and encouragement to sing or play along, a great place to practice your Chinese.
If you prefer nightclubs then head over to East Street to the infamous 1+1 club, it's a huge place with good table service and loud bizarre music. Although they're a little smaller we found 'Song & Song' and 'Salsa' to be the most entertaining clubs. If you fancy having a pubcrawl then head to one of the bar streets, either DeFuXiang near the South gate or the smaller Bar street behind the Big Goose Pagoda park.
Tourist attractions
The main charm for tourists in the area is the famous Terracotta Warrior site, located about 2 hours from the city centre, you can arrange guided tours there at local Western hotels such as JianGuo and Golden Flower, alternatively there are regular buses from the train station. There you can also catch a bus to Huaqing Hot Springs and if you're looking for a challenge there is a regular train and bus service to Hua Mountain, known for the dangerous hike to the top and breathtaking view of the sunrise from the East Peak.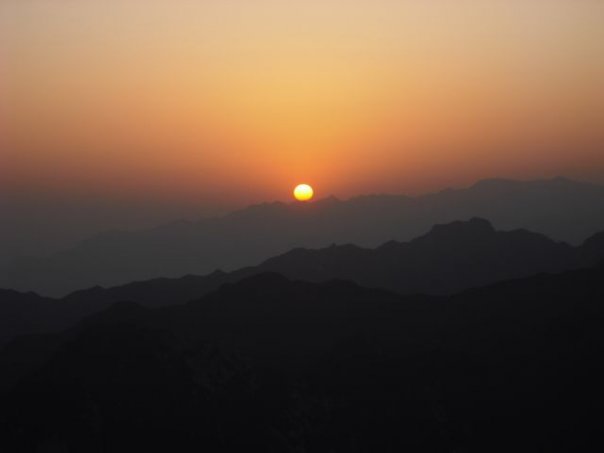 In the city centre you will find the Bell Tower, Drum Tower and Muslim Quarter within walking distance of each other. Further to the south of the city is the Big Goose Pagoda which has a charming music and light show every evening around 9pm.
There are small Buddhist temples dotted around the city but the biggest and most famous in the area is the Fa Men temple, you can get a bus from the train station and there's generally a couple of stops to visit tombs along the way.
Last but not least is the beautiful city wall that surrounds the centre of Xi'an, the entry fee for the wall is around 40 kuai and for 200 kuai deposit and 20 for 100 minutes, you can hire a bike to cycle around the wall.
Staying safe
Although Xi'an is generally a safe city crime does happen and in a different country the language barrier and cultural differences can make things even more difficult should the worst happen. The most common problem are pickpockets, keep your belongings safely tucked away and be particularly careful when talking to people you don't know.
Street sellers can get a little over-persuasive from time to time, especially in areas where there are lots of tourists – simply smile and say politely, but firmly, 'bu yao!' which means 'don't want' the majority will then leave you alone.
by Lindsay Webber (worked in Xi'an 2009-2010)