Cost of travel in China

10 RMB is approximately £1

Travel prices and transport
I am foreign English teacher working in the Henan province, Nanyang city. Over the Spring Festival winter holiday I travelled to Shanghai, Xi'an and Luohe (city in Henan province). I had to plan my outings in advance; therefore several days before the day of departure for Shanghai I booked my train tickets at a train station with the help of a Chinese student (Don't forget to bring your passport). The ticket was 170-180RMB however the train itself took 15hours to get there. Normally I can't deal with a long train journey but I was in the company of a friend so it was okay. When I arrived in Shanghai there are few hotels around the area of the station. I was recommended by colleagues beforehand to stay in Holiday Inn which was around the corner. I didn't book the hotel ticket in advance but the price would have been similar I reckon. 2 nights cost me 500-600RMB in total.
After few days of coming back to Nanyang I booked 3 sets of train tickets all from my current living city train station to leave within 3-4 days; first ticket to Luohe then after 2 days I would leave Luohe and head to Xi'an and stay there for 3 days. I took the train to Luohe and it took 4 hours by train at a cost of 60-80RMB. The train to Xi'an from Luohe took 8-9 hours at a cost of around 160RMB. Trains were the best form of transport from where I was living hence I frequently used them. The hotel in Luohe charged me around 200RMB for 2 nights. Good hotel. The hotel in Xi'an was in middle of main tourist areas and charged me 240RMB for 3 nights.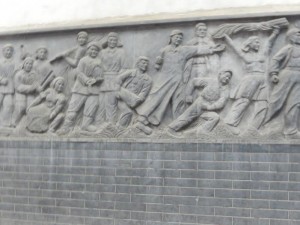 Above: Luohe

Food and sightseeing costs
Shanghai was expensive even for just few days, much of the expenses falling on tourist attractions. They have the Starbucks and Pizza Huts and although it did not seem that much at the time, when I tallied up along with the sightseeing/ tube trains/taxi etc I spent a lot. A normal 3 course meal in Shanghai would cost between 100-150RMB per person. It does depend on where you go. I ate in a restaurant with a friend and it cost me over 100RMB all together. Places like Pizza Hut would cost slightly more for a meal. Most of the good attractions in Shanghai along with souvenirs charged me between 30-80RMB. Meals in Luohe were cheap. I ate 2 big proportional dishes of egg fried rice and chicken and it cost me around 60RMB which would be 30RMB one dish alone. Luohe had a very good snack street not far from the train station and the food stalls charged up to 10RMB for great food. Steak meal in Luohe cost me around 90RMB. In Xi'an eating at subway sandwich shop cost me 30RMB for 6 inch sub. A steak meal in Xi'an cost me 50RMB which was reasonable than the Steak in Shanghai or Nanyang (120RMB). Snack street food of rice and chicken cost me 10RMB. Another traditional Chinese noodle restaurant for two dishes cost me 30-40RMB.
In general Shanghai restaurants were the only visible eating places and eating daily at restaurants was pricey. Unlike Luohe and Xi'an which both had snack streets and were good value for the food. Most snack foods up to 10RMB. Xi'an being a more popular tourist city was slightly more expensive than the food in Luohe. For example a great traditional noodle bar in Luohe costing only 12-15RMB. Similar food in Xi'an charged around 50RMB or over for great noodles. In Luohe I went to a hot pot buffet restaurant that charged me 28RMB per person. It was at least 10-12RMB cheaper than Xi'an for good food in my opinion. The tourist attractions in Xi'an cost around 30-50RMB and a major attraction like the Qin-terra cotta army statues cost around 350RMB including a package deal with other visits otherwise on its own it was 120-140RMB per person.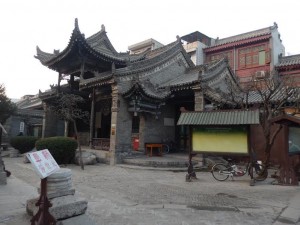 Above: Xi'an

My Preference
Shanghai atmosphere was buzzing around the busy tourist areas as expected and there were many places to see. There are less tourist places in my city so I don't get to see such atmosphere like I experienced in Shanghai. The Chinese traditional areas, zoos, gardens, temples, the Bund, Pearl tower were all great views and I recommend them. The nightlife is decent depending on where you are. You occasionally bump into other foreigners that remind you there are more foreigners around than the limited bunch you could possibly have in other provinces which is always a good thing. Luohe is considered a smaller city and the town seemed peaceful and quiet at night apart from the snack street area from where I was staying. The people were friendly and the food was incredible. Xi'an for me was the best out of the lot because it is ancient city with a lot of old history but it was also a modern city. There was a balance. This suited me so well I wish I was teaching in Xi'an. The atmosphere is also great along busy streets and snack places. A lot of tourists are around and there were very good tourist places to visit in my opinion rivalling Shanghai. The people again very friendly and some can speak English unlike the people I met in Luohe. Terra Cotta army statues, bell and drum towers, pagoda goose towers, muslim street are just few of the places worth visiting. The city wall in Xi'an should not be missed. It is a city you have to visit if you are going to go Beijing or Shanghai.
My source of travel in Shanghai was mostly the tube train and in Luohe and Xi'an I either used taxis or walked. Taxis were cheap in the latter two cities.


By Alamgir Ali, long term teacher in Nanyang city, Henan province.