By Lee McCarron, teacher in Guiyang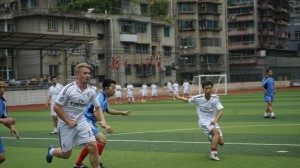 Football. The Beautiful Game. A common language across almost all of the World.

This is definitely the case in China, even though it is not their most participated sport and definitely not their most successful sport! Any local's response when you say you like football or zúqiú (the Chinese football), is unanimous. 'Chinese football is very bad!'
My experience of Chinese football (without wanting to begin down the cascade of football clichés) is one of up's and down's, of swing's and roundabout's and a 'game of two halves!' I am writing this article in full knowledge that I will never play football in China again (unless I was to return at some point in the future). Sat, nursing my fractured metatarsal, finished teaching and counting the days until my flight home, (T- 22days, 16hours, 21minutes and 15seconds) I am able to reflect on my year playing football in China.

I'll get more onto the broken bones –plural. I have found my self-laid up twice now- in due course. But, first, let's get into the crooks of football in China. Well having never played on a single bit of real grass, the summer season's and the cancellation of any match with the first sight of rain, the days of clogging seven shades of the proverbial out of each other on a wet, windy and cold Sunday morning or Wednesday afternoon seem a lifetime away!
I can also safely say that Chinese amateur football players have received a lot of influence after watching European football on TV. The physicality is all but removed compared to the English amateur game, I'm not sure if that is purely because I am taller and stronger than most players (I am no means big and strong by English standards, it's just that most Chinese people live up to the stereotype of being small), but, Chinese players are very keen to hit the deck after the slightest bit of bodily contact. Usually followed by a profound scream and un-warranted free-kick akin to what can be seen in many Professional leagues across the World these days.

Ok, let's focus on some key things with regards to playing football in China:

How I got involved in it
Now, this may vary depending on where you live in China. But, I live at a Guizhou Minzu University, Guiyang, in Guizhou Province, overlooking one of the school's football pitches from my bedroom window. So, playing football here can sometimes be a case of, if there are people playing football on the pitch, going to ask if I can join in. The answer is invariably 'yes', the Chinese are extremely accommodating to foreigners and if your British it is assumed you can play.
I have played for five different teams in China, one of which I have played for regularly including training sessions (5-a-side games). For this team (Guizhou Surveying and Mapping Company) I was lucky enough to see they were playing a match on the field outside my house. I went down to watch the end of the game and after the final whistle and asked if I could join their team, they then directed me to the guy with the best English, we exchanged numbers and a joined them for training the following week.
The other teams I have played for have been inter-school teams. In which the school has a league for a few teams. A fellow teacher approached me in the canteen and asked me if I would like to play for a team he played for/managed. From here, I have played for various different teams as teams are often mixed up, with other friendly matches being played. I also played for one of my Vietnamese friend's team, a team made up of foreign students studying in China.
Kit is not a problem in China also. Having brought a pair of boots with me, the teams I played for were kind enough to organise kit for me to play in. Usually a replica kit of a European team. If you're a fan of free kit, China is the place to play! I am now in the possession of two Chelsea and one Real Madrid full kit, as well as the local side's shirt (Guizhou Renhe), all adorned with Chinese team name in characters on the back of each shirt, which looks quite cool.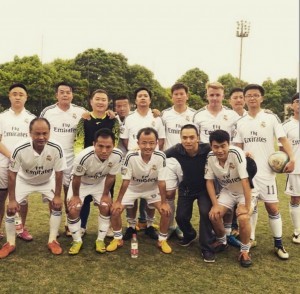 Lee and his team-mates in Guiyang


Communication
My Chinese is…. Well…. Rather limited! So communication can be somewhat difficult. I have found myself reverting from an extroverted, loud, central midfielder, to a somewhat introverted centre forward making runs with the hope of being seen by team-mates.
Picking up enough of the basics to be able to receive the ball is probably the limit of my football Chinese. But, having scored a fair few goals (20+ in about 12 games in think), this seems to be all that is needed. Pre-match and half-time team talks have proven extremely difficult, with the only instruction that most can deliver to me is 'shoot more' or 'score goal' so I have become very good at reading hand single, different coaches gesturing me to hold my position and come short or whether to spin in behind the last man.

Team-mates
As I mentioned before, 'Chinese people are extremely accommodating to foreigners'. So, the majority of my team-mates are extremely welcoming and generous, –I have not been through a single half-time without being offered a cigarette and water, no matter how many times I decline the first and accept the latter- making it a very enjoyable experience.
I have made many friends playing football in China and often go for dinner after a match or for a drink with some of the student players. And, as is Chinese hospitality (second to none), I have not paid for a single thing, no matter how much I try to hand over some money.

Experience
My experience of playing football in China is a very positive and enjoyable one. However, due to the format of the Chinese professional season (summer season, similar to the MLS), the amateur season follows suit. In a province such as Guizhou, where the climate is more favourable to the British climate in both summer and winter, this means that matches played in the hottest months. I most certainly will not miss playing in 34 degree heat during a mid-day kick off and playing the full 90 minutes!
As I briefly mentioned earlier, I have picked up two injuries whilst playing in China. I had never broken a bone in my life before coming to China, and since being here I have suffered a broken ankle and a fractured metatarsal. However, both injuries were not due to a horror tackle, just simply getting my studs caught in the none-forgiving astro and pop! My most recent injury happened very recently and has put a stop to any football during my remaining time in China, with the 4 week recovery period given by the hospital, coming nervily close to my return flight to the UK.
Having been very much a mediocre footballer in England, playing football has been thoroughly enjoyable and I would recommend joining a team to anyone moving to China. It is a brilliant pre-curser to teaching and a great way to meet new friends and help improve your spoken Chinese.


Lee McCarron, Newcastle
Teacher in Guizhou