By Sabrina Samra (Teacher in Shanghai, 2015-ongoing)

So the end of April marked the Qingming Festival in China. Whilst those in China enjoyed Spring, celebrated and respected their ancestors, I decided to venture to an island in South Korea. I'd recently been to Tokyo in Japan, an amazing, vast, awesome city, so I decided to pick a more natural, calm, relaxing and quieter destination. This bought me to Jeju Island. Jeju Island is a volcanic island that had just recently been voted as one of the World's seven wonders of nature. With flights costing just £140 return, four nights in Jeju seemed a feasible and exciting option! I have developed a particular liking for Airbnb so I decided to book a beautiful looking Airbnb, located on the seafront, in Hamdeok.
I flew with my friend from work, Curtis, and we arrived around 10am, leaving at 7:10am. Upon landing and stepping out of the airport, whilst we waited for the convenient bus to the Airbnb location, I breathed in the fresh air and excitedly absorbed the shining sunrays. The bus arrived and we arrived to the sea bar guesthouse, where I'd be staying for four nights. It was beautiful, relaxing, tranquil and breathtaking. The water was an amazing coral blue, green and so clean. The host, YongHwan, was kind and welcoming. We dropped our things and decided to stay close by, take a wander, visit Hamdeok Beach and have some lovely Jeju cuisine. In fact, whilst we were there, Jamie Oliver was also there! The next morning we planned to awake early to hike South Korea's largest mountain, Hallasan Mountain.
The weather was wonderful and it felt so weird that just that same morning we were in Shanghai, and now we were in South Korea! Living and working in Shanghai opens up so many opportunities, whilst you get holidays, good salary, you can also get to various countries of the world within hours! This is a massive part of the reason I have decided to stay and teach in Shanghai for another year.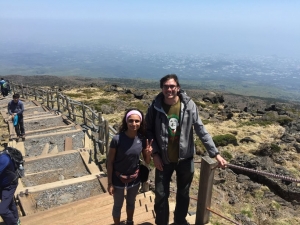 We wandered the stunning coastline, and eventually arrived at Hamdeok Beach. The sea was beautiful – in fact Curtis decided to dive on in! Although the weather was hot, I think even Curtis could admit that the water was a bit cold! That's probably why everyone around us glanced in shock! After enjoying the views and beach for some time we decided to have some Jeju local cuisine for lunch. Before lunch, we drank a KASS beer and watched a man who suffered from Leukemia sing on the beach, whilst also playing the guitar. He even took English requests and sang heart of gold by Neil Young for Curtis!
We were by the sea, so quickly realised most restaurants were seafood restaurants. Though it was incomparable to the divine food we had for the rest of our time in Jeju, our first meal was nice. It was a sort of seafood stir fry, filled with baby octopus! Following lunch, and another local beer as we were on holiday, we decided to walk up a big hill on the coast further along from Hamdeok Beach. It was incredible, especially as we turned to see an amazing view of the island as the sun gradually set. After a lovely day, we walked back to the sea bar guesthouse and picked up some ingredients from the local supermarket on the way to cook dinner with!
The next morning we woke early, changed into our hiking gear and took a taxi to the centre of the island. Today we would climb Hallasan. Hallasan is an incredible shield volcano, and from the peak is a view of the astonishing volcanic crater. The hike was all an all a thousand metres high, and Curtis and I quickly realised we should have packed more supplies of water and food. Though there is a half way point in which food and water are available, I'd definitely recommend packing full supplies. This is a proper hike!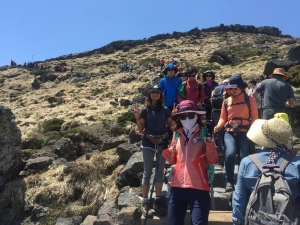 So Curtis and I proceeded to hike the uneven, steep, natural and beautiful path up the mountain. The most difficult part of this hike was the very uneven, rocky nature of the path. You had to ensure to always keep your eyes checking your footsteps, in case of a fall. Around about halfway up there was a detour to go and check out a different observation point, all in all a forty-minute roundtrip, which we decided to take. It led us to a beautiful lake and views of the surrounding volcanoes.
We, in hunger and thirst, finally made it to the stop off point in which noodles and water were available in a beautiful natural setting. We were surrounded by flowers and the peak was somewhat in sight. The sun was shining as we re-fueled our energy with lunch on the mountain. As we continued the demanding hike, we made friends with a fellow British/Australian guy also hiking the mountain. I have fond memories of the three of us discussing all sorts of political, philosophical, cultural, religious and general topics as we neared upon the peak of this incredible mountain.
One distinct memory, I doubt will ever fade in my memory, is of the astonishing view of the Baekrokdam (lake-filled crater) visible from the top of the mountain. The water looked so pure, clean, blue and incredible. I could only imagine what this place looked like years ago during its prominence. We stood and stared for a while, embraced the views, before embarking on the trek back down. I preferred trekking down to trekking up, I felt like I could jog down faster. However, Curtis was more confident coming up! I guess it comes down to your preference. Two hours later, we arrived back down to the bus stop at the bottom.
Curtis and I, and our new friend, decided to get the infamous Korean BBQ for dinner consisting of Black Pork. We had originally hoped to see the sunset over the beautiful Hyeopja beach, however sunset was nearing upon us and we were starving! The tricky part when visiting a new country, exacerbated by the fact that you (in most cases) cannot speak the language thus limited communication immensely, is knowing where to go, the best place to eat and what area has the best of what you are looking for! We headed towards the market area that our new friend recommended might have lots of restaurants. To our dismay, we couldn't find any. However, luck came our way (as occurs often when on holiday, and a lovely lady recommended us a lovely, local Korean BBQ that was only a five-minute walk away. She so kindly walked us the whole way, and oh my it was amazing!




The place looked so authentic and it was just what we were looking for. We were reflecting on our day on the mountain, with an ice cold beer and the best Korean BBQ of Jeju's famous black pork! We then got the convenient bus back to Hamdeok where we were staying. At the Airbnb a new girl who was visiting from Seoul had arrived, Estelle, and she joined our adventures the next day!
The next morning, we planned to get the bus to see the "Seongsan Ilchulbong" volcanic tuff cone (which is famous for its beautiful sunrise) and then visit the nearby (short ferry journey away) island named Udo. On the busy bus we made lots of friends and had lots of laughs. We made friends with a lovely Israeli couple who were travelling together and on their way to Udo Island, and would then watch the sunset over the famous shield volcano. We decided to edit our plans and go to Udo Island first with them and also see the sunset from the peak of the volcano.
It was an amazing, hot, sunny day and we got an interesting sausage waffle snack and arrived on to Udo Island. This island was particularly wonderful, due to the fact that you could cycle around at ease or jump onto regular buses to navigate around. It was a natural haven. We explored a high point of the island in which we could see the surrounding volcanoes, and beautiful sights. The whole day was wonderful, the two particular highlights for me were the food and the caves. So, many people had recommended us to take the speed boats to the caves. Though I knew we were told speed boat, I did not in my wildest dreams expect what I got! We held on for dear life as we bounced up and down on the sea, and then slowed down to see the cave, only to race back with speed around the sea, almost dropping in! It was a crazy, buzzing, thrilling and awesome experience I'll never forget.
Korea had the most unique-flavoured and scrumptious food I've tasted. Before heading back to catch the sunset at the massive Shield Volcano, we decided to eat lunch on Udo island. This was the most popular, local, Korean restaurant to eat at with queues of people waiting to eat so we quickly realised this place would be worth the wait! The meal went through so many layers. It started as an octopus stir fry dish, and then the chef formed a love heart and then best was saved to last with gorgeous melted cheese. Whilst the food went through these layers a story was told to us and the chef had created a volcano with the food, mirroring Jeju Island!



After eating, we speedily raced to the ferry across and caught a taxi to the sunrise peak volcano to catch the sunset over the island. It was definitely worth the rush. As I saw the notice as this being one of the seven wonders of nature and part of the worlds natural heritage site. I really couldn't believe just how naturally amazing this island was. We trekked up the steep but manageable volcano, analysing its detail along the way, and then reached the top. We took many photos, enjoyed the view and also made friends with a Korean guy from Seoul.
To finish off a wonderful day we all headed to Jeju Town on the bus for dinner and drinks. Along the way we chatted politics, religion, the world, culture – everything! The best thing about travel is all the amazing people you meet from all over the world.
The next day I planned to independently visit the Manjuggul Cave, representing the world's largest lava cave. It was INSANE. The best thing ever. As I walked through the wet, cold, dark lava tube and saw the stalactites, stalagmites, lava rafts, and lava shelves, it felt like my GCSE Geography lessons were being bought to life!
After exploring the Cave, I sat down to have "bibimbap", a famous, tasty dish in Korea. It was scrumptious. By this point rain was pouring but I decided to head to Jeju town centre, wander around and grab a coffee. Coincidentally Estelle and John the local Korean friend we had made the day before were close by so we got together and explored. We headed to the "Dong-Mun Market". Famous for its oranges, we indulged in a tasty orange and yoghurt. I bought some bits and bobs and then we met Curtis for dinner! This was, sadly, my last evening in South Korea as the next morning, Curtis and I, would be flying back to Shanghai.
It had been the most exhilarating, natural, wonderful, picturesque and beautiful trip! I definitely plan to return there… perhaps for my own honeymoon! ;D

Check out Sabrina's blog about her adventures in China Sabrina's 'Wanderlust East' blog