Kimberley Parker
Taught English in China January 2011- December 2012
Current Job Title: Office Manager
Company: Financial – Guardian Wealth Management, Dubai, UAE

Careers after the placement
Our teachers gain lots of skills through their work in China, like communication skills, leadership ability and experience with public speaking.
Prospective employers value initiative, and the ability to take yourself out of your comfort zone and thrive.
It means that you have lots of careers options upon completing the programme.
A number of our recent teachers pursued a career in teaching, while others now work in finance, the civil service or for NGO's.


Kimberley Parker (2011-2012 programme). Career after China: finance
I lived and worked in Guangzhou for one year directly after graduating University. I was working in a private language institute and teaching kids from 3 years old to 14 years old. I can honestly say it has been one of my best years to date and I wouldn't change the experience. I met some people that have turned into lifelong best friends, I met numerous connections which have helped me decide where I want to go next and who have helped me get to where I am today.

Life after China
After leaving China I moved to Alabama in America with my partner who I had met whilst in Guangzhou. I remain friends with him now and even though we did not stay together he is also working abroad in Jakarta, Indonesia now and we keep in touch regularly.
After living in America for a few months I decided to move abroad again, this time to Dubai in the United Arab Emirates. I have now been here for almost 4 years. If it wasn't for my time in China I don't think I would have such a love for living in another culture and in a foreign country. My time in China gave me the confidence and ability to move abroad to start a new life on my own. I knew no one just like my when I decided to go to China, however instead of being nervous that things wouldn't work out, I knew I was making the right choice and meeting new friends and enjoying life in a foreign country would work out. I was only confident on this because of how much I had enjoyed my year in China and all the great experiences that came with it.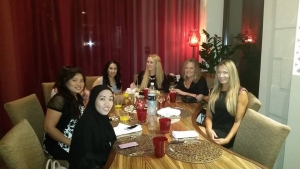 China gave me the confidence and the drive to see and experience new places. In a way, it confirmed that I didn't want to settle with life in the UK and now always strive to live and experience new things and new places. I have friends from all over the world and if I ever decided to leave Dubai, I have numerous contacts and friends in other countries who can give me advice or even give me a couch to sleep on if needed!

How has my experience in China benefitted my career?
My experience living and working in China has always been impressive to potential employers I have met since I have left. They always see it as a great advantage that I have lived in such a culturally different place in comparison to places like Europe or say Australia.
It proves you are capable of working out of your comfort zone and alongside people of different nationalities and cultures which is very important when working abroad.
Employers have always been impressed and sometimes shocked that I have had the experience of living in China and it is always 100% a starting point for a conversation. They have always seen it as a hugely positive aspect of my resume as it shows confidence, willingness to adapt and the ability to live and work in a country which has different cultural standards, a different language and an overall difference in way of life in general.
Whilst in China I learnt basic Mandarin and even in my office tower now we have a Chinese company on the floor above and I regularly have a conversation with the employers in the elevator!




Are there any skills you use in your current job that you improved as a teacher in China?
There are plenty of skills that I have mastered in my current job that were influenced and improved by my experience as a teacher in China. Working as part of a team and now managing a team of twelve of different nationalities, speaking with external providers and organizations and having the patience to do this on a daily basis after experiencing a language barrier, working with team members from different cultures, adapting to new situations more easily, the list is endless!
Finally it seems that working in China gave you the confidence to do it again elsewhere.

Can you give some examples of things you adjusted to more easily in Dubai because you had previously lived in China?
When I first moved to China, I was so scared and apprehensive, after this experience proving to be one of the most enjoyable years to date, I didn't hesitate to move to the UAE. I wouldn't have had the confidence to do this and progress my career further if I had not lived in China first. Adjusting to a different culture and way of life was a lot easier, after living in China and getting the metro to work every day (a little bit more crowded than the London Tube!) I was fully prepared for anything coming to the UAE! Chinese culture is amongst the richest in the world and it made me appreciate living abroad, it's far more rewarding and exciting that you can imagine, sometimes you feel like you are on holiday 24/7. Experiencing new things and meeting new people has now become a passion of mine.
In summary, I would recommend anyone who wants an adventure, wants to experience life in a new country and culture and who is open to meeting new people from all walks of life time to move to China. I regularly think about going back there for a year or so. It gives you an experience you cannot buy or find elsewhere which sets you up for the rest of your life and is very attractive to future potential employers – not just in teaching but in any field at all.