By Samantha Kent, Summer Teacher in Xuzhou 2018
Samantha took part in the 2018 Xuzhou Summer Teaching Placement. Here she talks us through a typical day on the first half of the camp, before moving to a nearby school campus for the second. 
Having just completed the 7-week summer teaching programme in Xuzhou, I have written this post to give prospective teachers a real insight into what a typical day is like on the programme. Having said this, the term 'typical day' is misleading- every day has a different agenda and is filled with unexpected turns and surprises, therefore one day could never truly represent the diverse experience that has made this summer so life-changing. But this post will give you some idea of what summer camp in China is really like!
My summer teaching programme was split into two periods: summer camp and summer school. At summer camp we had a three-day activity schedule for each group of children, these were longer days filled with games, activities, and fun-filled lessons; whereas summer school consisted of more formal lessons and a structured curriculum.
08:20-9:20– Meet and greet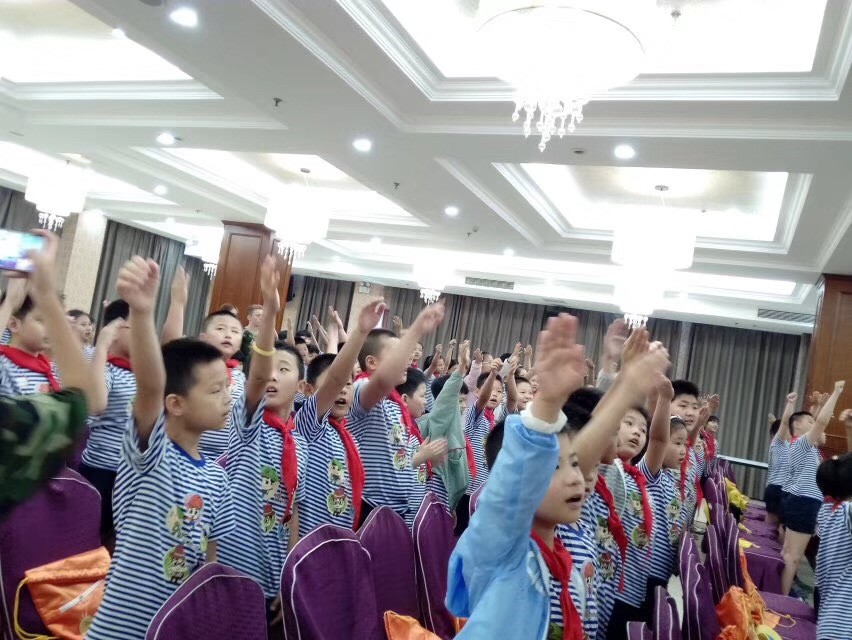 At 8.20 I met the other English teachers along with the local Chinese teachers at the office, where we grabbed a DiDi (China's version of Uber- but much more efficient!) to the hotel, where we would stay for three nights and host the summer camp. Shortly after we arrived, coaches full of excited children pulled up outside – 250 to be exact! They were already split into their 10 teams, and so my 25 children came running up to me as soon as they saw my 'Team 2' poster. Then it was time for photos and greetings with my team, before heading to the hall for the opening ceremony.
9:30-10:20– Opening ceremony
All the teams gathered in the hall for the ceremony, which included lots of songs, chants, introductions, and of course, a lay down of the rules and expectations for the next three days. This event was run by the school staff and teachers, but us English teachers got involved within our individual teams by teaching our students their team chant (which turned into a riotous competition of which team could chant the loudest!)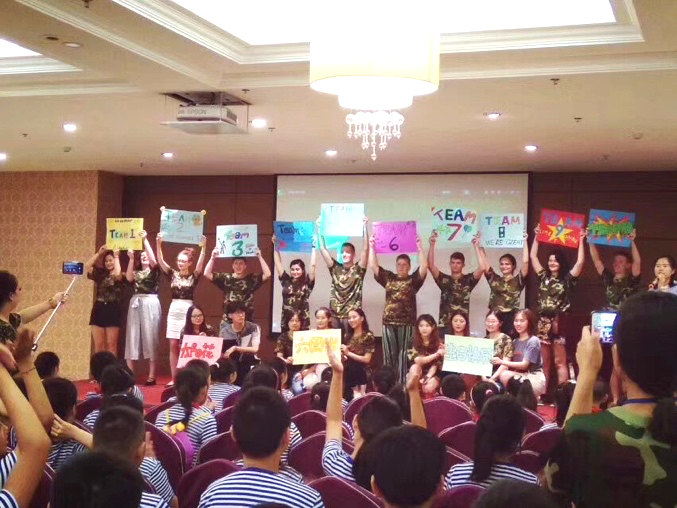 10:30-11:30- Team games
After the ceremony, the teaching assistants lead each team to their assigned classroom. With my Chinese teaching assistant, I bonded with my team through ice breakers and games in the classroom, such as 'go-go-stop' and 'word tennis'. These games are designed for the students to practice their English through active, fun and engaging activities. This was also a great chance to tell them more about myself and where I come from (Chinese students always love to know more you and your culture).
11:30-14:00 – Lunch
Lunch times were hour slots for each team, staggered between 11:30 and 14:00. At our assigned time, I lead my children down to the dining hall where we were all served a generous portion from the daily lunch menu, complete with chopsticks and a Chinese soup on the side. After eating with my team, I had free time whilst the children were supervised by the teaching assistants. I would usually spend this time catching up with the other English teachers or having a well-deserved rest!
volunte
14:00-16:10- English lessons: Western festivals
After lunch, it was time for English lessons in the classroom. We kept these lessons dynamic and interactive, with lots of games and activities to keep the children engaged. Today we focused on the topic of western festivals, using colourful A3 posters as visual aids. I introduced the children to Halloween, Christmas, Mother's Day and Easter, asking each student questions about the festivals and explaining unfamiliar terms to widen their English vocabulary.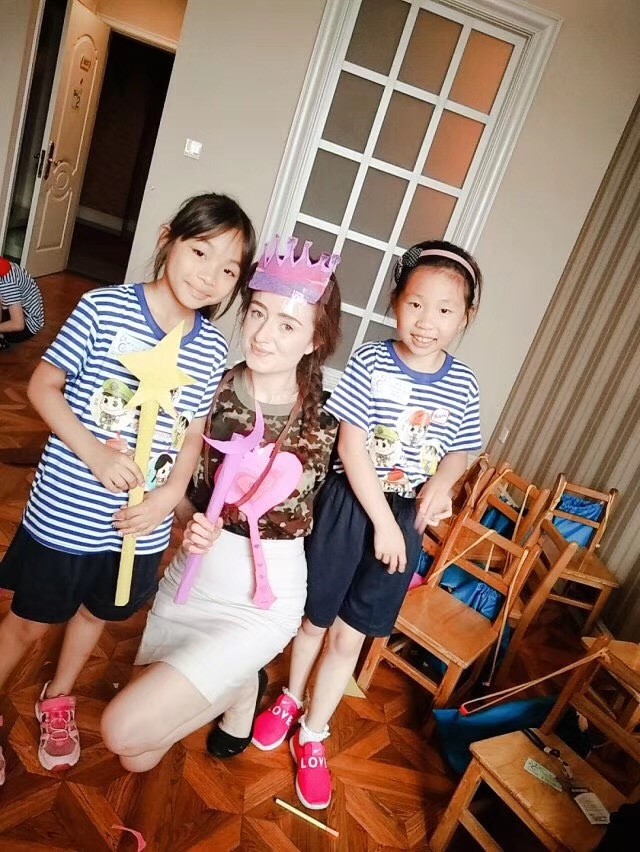 16:10-16:40 – Dress up the English teacher!
Now time to get creative! The children decide together what they would like to dress up the English teacher as, and then we give them some basic materials to make a costume- scissors, glue, coloured paper, newspaper- and whatever else they can find! Having 25 seven-year-olds as my personal stylists resulted in some seriously wacky outfits, but the children loved it and constantly told me how great I looked!
16:40-17:40- Voting
After the dress-up was complete and I was fully covered in Sellotape and coloured paper, I ventured outside into the hotel lobby (getting some strange looks from hotel guests on the way) to meet the other English teachers, who were also covered head to toe in extravagant costumes. We went around the ten classrooms together, where the children voted for their favourite costume, and the overall winner received points for their team.
17:40-18:30 – Prepare a Show for the Final Ball
After the excitement of dressing up the English teacher was over (and I had removed all the Sellotape from my hair!) it was time to practice a show for the final ball. I taught the children the dance to 5,6,7,8 by Steps and they taught me a dance to a Chinese song, a great way to learn about each other's culture and have a lot of fun whilst doing it!
18:30-19:30- Dinner
We then went downstairs with the children to grab some food and have a break before the evening activity.
19:30-21:00- Film
After an action-packed day of events, all the teams joined in the hall to wind-down with a favourite Disney film, played in English with Chinese subtitles.

21:00- Bedtime!
After the film we were off-duty, and the children were led to their rooms by the teaching assistants. I headed up to my hotel room with the other English teachers for a well-deserved sleep, ready for the adventures of the second day!
This article describes part of the 7-week Summer Teaching Camp in Xuzhou. If you're interested in taking part in the 2-week Camp in Huzhou or Haining, you can find out more here.