By Sabrina Samra, Teacher in Shanghai (2014-ongoing)

I only spent a day actually exploring Yibin, but the place really touched me. I had thought I'd traveled a fair amount in China; until I spent my weekend in Sichuan/Yunnan Province. I've traveled to Beijing, Suzhou, Foshan, Tongling, Huangshan, Xian, Hangzhou and Wuhan. These, apart from probably Tongling which is a small town that I also really loved due to its intense Chinese vibe, are quite big, modern type cities.
There are so many rural, northern and southern parts of China I am yet to travel and explore. My weekend in Chongqing/Shuifu and Yibin has inspired my desire to further travel around China. China is so vast and diverse that it really does have so many different parts to it, cultures, foods, languages, customs, traditions, behaviours, histories and things to see. Literally the best thing about teaching English in China is that we are not only working and living in China, which has SO much to see; but also conveniently, geographically located in Asia. There are so many pathways of travel living and working in China. I'm one of those individuals who really likes to embrace that.
I've spent over a year in Shanghai now, and it's been amazing. Shanghai is truly an amazing place to live. A comfortable blend between West and East. Now, in my second year, I am sort of realising this blend has become somewhat too comfortable. I am the kind of person who likes to challenge myself. I have lived in so many areas of Shanghai, varying from the very far outer suburbs off the metro line, to the inner suburbs on the metro but farish from the centre and then also two different locations in central Shanghai. I must say however, whenever I travel around China and Asia, I feel at home in Shanghai. Shanghai is the place I miss and refer to as home. But like I said before… I like a challenge!
Anyway, let me tell you more about that weekend in Yunnan/Sichuan Province and what has made me have such a change of heart. To start with it was probably that bus journey I had from Chongqing Airport to Yibin. It was a four-hour journey in which the views were amazing. Typical for China, it was misty and cloudy but this sort of added to the effect of the views. The views consisted of mountains, rice-fields (which made me giggle realising why rice is so popular and damn tasty in China), hills, villages, trees, lakes, rivers and greenery. I quickly appreciated that it's not all about the skyscrapers, awesome skylines and rooftop bars. Though Shanghai, and many other cities amaze me in this category (as well as many other categories of course – Shanghai has so much beautiful, many ancient towns, ancient water towns etc.), it's not just all about the city life! There is more to life to see, such as nature, mountains, forestry, rivers, lakes, the sea – everything!
I daydreamed and wandered whilst drifting my eyes out the window of the bus. I thought about the rest of China, the nature, the history… everything I still yet had to see. I also thought about where I was heading. I had no idea about it at all, just that it was a small, village-like town. It excited and intrigued me. I know in these parts of China, especially in compared to Shanghai, there are less foreigners and EXPATS. Jonatan, the guy I was travelling with, and I had already made friends with a friendly Chinese boy from Yibin. He was so eager to chat to us, take picture and ask questions. I guess this is one of the biggest advantages of not living in Shanghai, the very true, oriental, authentic and Chinese experience you will achieve.
Chinese language skills would have been perfect in this situation. That's the best part about living in a more rural part of China. You almost have to learn Chinese to get by and can arguably learn it much easier as it is around you so much. Admittedly, in Shanghai, life WOULD be much easier, I'd experience a lot more, understand a lot more and have more opportunity if I knew Chinese. BUT, in Shanghai it really isn't vital to know the language. For some reason, you can just manage to get by. I want to be challenged. I am living in China. This is the perfect chance to learn Chinese. Chinese is everywhere around me!
I have a memory from the Shuifu Half Marathon, in which I made lots of friends who are living in Kunming, Yunnan. One guy said to me that he'd managed to learn Chinese in 8 months from living in Yunnan. I overheard him speaking Chinese and had asked him for tips. Don't get me wrong, he wasn't perfect, doesn't know everything by any means BUT he could generally have a conversation. I admired that and it motivates me. In that sense, I feel slightly limited in Shanghai. For those of you thinking about teaching English in China, we have placements in Yunnan such as Yuxi, in which this authentic experience will really be achieved.
In my case, these thoughts are probably occurring as it's my second year. During my first year I was completely dumbfounded by the language. But now my understanding of Chinese has improved (I'm just working on my confidence in speaking) I'm not as freaked out or scared by Chinese, as I was when I first came here. There really are benefits to living both in "Western China" like Shanghai, and living in "Real China" like Anhui Province and Yunnan Province.
Moreover, I must say that I have genuinely found Shanghai relatively cheap, but guess what? Other parts of China are CHEAPER!! Shanghai is officially, and considered by many, as the most expensive city in China. This is in regards to living, travel, buying and renting a home – everything! Coming from England, Shanghai has been considerably cheap for me. But the idea that it could get even cheaper is crazy. Though, it should be noted it is also often the case that salary is higher in Shanghai.
And it was certainly the case! We spent the day in Yibin in which was amazing and very cheap! I have memories of wandering around the lively streets. I saw so many street food stalls selling roasted nuts, foods, bits and bobs and all sorts of other things (main image above). These can also be seen in Shanghai, but certainly not as much in a concentrated location. I have fond memories from Yibin of eating tasty, very cheap food and also getting a street pedicure for just 15rmb! The lady cut my nails, filed them down and cleaned around my toes. It was great!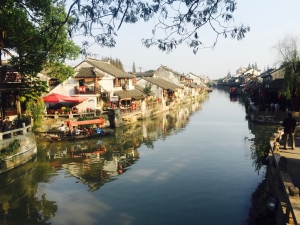 Fengjing Ancient Town in Shanghai

I guess what I'm trying to say is that China is large, vast, diverse and amazing. At first I thought I'd only be able to live in Shanghai; but now I feel this desire and realisation that I could live elsewhere in China. For now, though anyway, I'm in my second year and STILL exploring Shanghai and seeing things I haven't seen yet. Just recently I visited Fengjing Ancient Town in Shanghai. It was an amazingly beautiful, oriental, Chinese, hidden gem! So I guess, Shanghai is a great base for me to travel China, and continue exploring this amazing city I live in. It really is an incredible, intricate and beautiful blend between East and West. But, for those of you like me who like a bit of a challenge and massively cultural experience… I guess you never know where in China, or even the world we might well end up in the future.