Located on the northern border of Jiangxi Province, Jiujiang is a large city on the southern shores of the Yangtze River, with a history dating back over 2,000 years. With the Yangtze River to the north, China's largest fresh water lake to the east and Lushan Mountain to the south, Jiujiang boasts a unique natural landscape, attracting tourists from all over the country. Owing to its location, it's easy to travel from Jiujiang to cities in Jiangxi, Hubei and Anhui Provinces.
Its stunning scenery, low cost of living and location helped Jiujiang to win the title of one of China's top 10 most liveable cities in 2007, and it continues to be an attractive city for locals and foreigners to live and work.
Teaching in Jiujiang
With a placement in Jiujiang, you'll be working in a local state school teaching students in Primary, Middle or High school. Classes will be made up of an average of 50 students, and lessons will last around 40-45 minutes. You'll be expected to work around 20 hours per week from Monday to Friday, with a timetable that runs throughout the year. Basics like a blackboard, computer and a projector to display your PowerPoint will be supplied, and your school will provide you with textbooks and guidance. Props and other classroom realia are unlikely to be provided, so you'll have to bring specific supplies yourself if you wish to use them.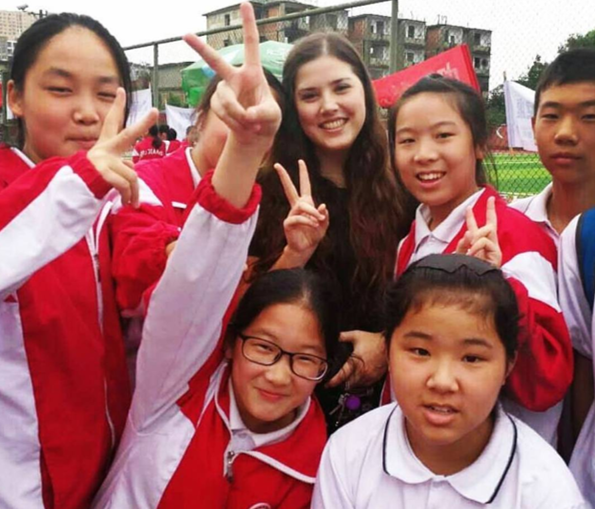 Last minute changes are common in state schools, so you will need to be ready to adapt if your teaching schedule changes. While knowledge of Mandarin isn't necessary it is definitely helpful to learn a few basics in preparation. You may be the only foreign teacher in your school, but you'll be able to integrate into the local expat community of foreign workers and students with ease.
Salaries in Jiujiang range from between 5,000 – 7,000 RMB depending on experience. This might not sound like a lot, but with free accommodation and a low cost of living it goes a long way!
Accommodation
Your school will provide a furnished apartment either on campus or in a nearby location. Your apartment will be equipped with all the essentials, including a shower, kitchen, western toilet, fridge and freezer, and a washing machine. The school will not charge you rent, and bills are usually covered as well. This will be confirmed in your contract. Your school will offer food during the working day, but during evenings and weekends you will need to eat out or cook for yourself.
Whether you live on campus or not, you may need to teach at more than one school. Your schools will usually be within walking distance of your accommodation, but in case they aren't you will be picked up and driven there.
The City
Jiujiang has become a popular tourist destination within China and with over 400 attractions dotted around the city, it's not hard to see why. The abundance of things to see and do makes it an interesting place to live and work.
Attractions
Poyang Lake: Poyang Lake, three times the size of London, is China's largest fresh-water lake and one of the city's major tourist attractions. There is lots to see and do both on and around the lake, including an island, several hills and the Lake-View Pavilion, from which visitors get a spectacular view of the lake. During the winter, it's possible to see a spectacular view of flocks of birds in flight in the area.
Lushan National Park: As one of China's first geological parks and a UNESCO world natural heritage, Lushan National Park is the city's most famous attraction. It covers an area of 500 square kilometres and boasts more than 90 mountain peaks and 37 attractions, including lakes, paths, valleys, waterfalls and temples.
Gantang Lake: Gantang lake is a natural lake located in the centre of the city. It's beautiful views and peaceful atmosphere make it an enjoyable place to explore. The Yingyue Pavilion offers a great view of the area.
Suojiang Tower: Located on the bank of the Yangtze River, Suojiang Tower is one of the city's several historical buildings and is recognised as the symbol of Jiujiang. The tower and pagoda were first built in 1586 to protect the city from flooding. After being destroyed by an earthquake, it was rebuilt in 2004 by the local government.
Cost of Living
| Item | RMB | Item | RMB |
| --- | --- | --- | --- |
| City bus | 2 | Beer (shop bought) | 7 |
| Taxi (first 3km) | 8 | Beer (at a bar) | 15+ |
| New bike | 350+ | Water | 2 |
| New E-bike | 2500+ | Coke | 3 |
| Cheap meal | 15 | 0.5 kg fresh veg | 5 |
| Average meal | 50 | 1 kg chicken | 18 |
| Expensive meal | 100+ | Gym (per year) | 1200 |
Food
Jiujiang cuisine belongs to Gan cuisine and is famous for its crisp and tender texture and unique flavour. Thanks to its proximity to the Poyang Lake and Lushan, Jiujiang cuisine consists of several delicious fish dishes and unique snacks.
Steamed Shrimps with Lushan Yunwu tea soup: This dish is a Lushan specialty and uses Lushan Mountain cloud and mist tea to cook shrimp, making for a unique tasting dish!
Poyang Lake fish: This dish is made by braising the bream from Poyang Lake in soy sauce and is eaten with Chinese beans.
Jiujiang Tea Cookie: Tea cookies have been made in Jiujiang since the Song Dynasty (970-1279) and they have since become one of the four most famous cookies in Jiangxi Province. Made of tea seed oil, wheat powder, black sesame and osmanthus flowers using traditional methods, the cookies are small, crisp and sweet and a delicious snack!
Pan-fried Buns Stuffed with Beef and Carrot: These famous pan-fried buns are stuffed with beef and carrot and are crisp on the outside, with a soft and tasty filling.
Jiujiang also has restaurants that offer many other types of Chinese cuisine and a handful of
Western fast food places to help settle any cravings.
Entertainment
Jiujiang is home to several universities, meaning there are plenty of places to meet other foreigners or Chinese people of a similar age.
Though not as developed as the nightlife in Shanghai, Jiujiang does offer a number of bars and clubs and it has several cinemas and theatres, which regularly show various films and performances.
Nanchang, the provincial capital, has a very lively nightlife and can be reached by train from Jiujiang in only 1.5 hours.