Many of our teachers go on to do other exciting work experience, whether it's in the UK or abroad. Natasha Blackburn, one of our 2016 summer teachers, went on to teach in South Africa following her time in China and in this article she writes about the key similarities and differences she noticed between her placements.
Teaching in South Africa & China: a comparison
By Natasha Blackburn, Summer Teacher in Xuzhou (2016)
After returning from a trip to South Africa yesterday where I have been teaching in a township school for the past 4 weeks, I have been reflecting on my experience and comparing it to my teaching experience in China last summer.
South Africa and China have very different attitudes to teaching which are both greatly influenced by their culture.  SA has a much more laid back approach to teaching and often teachers do not turn up to class on time because they are busy singing in the staffroom or have important meetings to attend, class sizes range from 40-50 children in the class with one teacher and no assistant which is very stressful in itself as managing behaviour is a huge challenge.  The children in Africa that I taught came from townships and lived in shacks or the newer Nelson Mandela housing and did not pay for school but the children in China were paying quite a lot of money to be taught English in their summer holidays with class sizes from about 10-16 children.  In China, I had a Chinese teacher with me at all times to translate to the children when they did not understand and homework was regularly set, completed by children and marked and returned quickly.  Homework was set in Africa but a lot of the children did not complete it because their parents did not understand how to support them with it due to a language barrier or a limited education of their own.  Children often had a lot of other issues going on at home such as leading a child led household as parents often went to work early in the morning therefore taking on adult responsibilities and not having the time or resources to complete homework.  In China, children were often encouraged to work hard for stickers and positive praise from teachers however in Africa there was no reward systems in place to motivate or inspire the children to learn and push themselves although a lot of the children wanted to become policemen, doctors, nurses and teachers.  When we introduced a superstar award system in class, this acted as a motivator for children to concentrate and do their work and they responded really well to it.  They would be so proud when they got the superstar award and although it was only made out of cardboard it had meant so much to them and they were so thankful for it.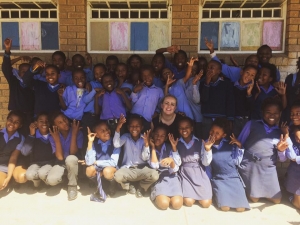 South Africa was very much rote learning, copying from the board and using textbooks as a way of teaching.  According to one of the teachers at the school the curriculum was constantly being revised and changed which meant that teachers lacked confidence in how to teach lessons without using the textbook and felt this was the only way they could teach.  Therefore, the teachers greatly appreciated our innovative teaching and creative lesson ideas as we introduced a way of teaching that followed the structure of the textbook but made lessons more interactive and fun for the children with an aim to hopefully optimise their learning.  Children had a lot of potential in my school however they did not have a strong support network to help them stick in and succeed and often school was tiring for the children because of moving around classes and carrying their bag full of books between the classrooms.  This is the opposite in China as parents are always encouraging their children to make progress and achieve and a lot of the time children are pressured by their parents to do well and fulfil their dreams. Lessons in China consisted of lots of games and different approaches to learning which kept children engaged in the lessons and lessons were very active and behaviour was disciplined appropriately.
My school in China had so many resources to teach with compared to my school in Africa who had very few therefore this could be the reason for limited and active teaching in the classroom.  Teachers had to be taught and guided on how to teach with certain equipment such as arrow cards and 100 number grids.  However, we bought things for displays and general classroom resources and books and I hope to keep sending the school resources to enhance learning and teaching.
In both schools, there was no classroom displays which is a huge thing for us as teachers in English schools and we believe that a stimulating environment very much impacts our education as youngsters.  This is one thing that we tried to implement in my South African schools, to make their classrooms brighter and full of life.  We made a display in the life skills classroom in SA with the children's work on it about emotions and the children were overwhelmed and excited to see their work on the wall as they were hardly praised for good work.
In China, we cooperated with the parents and got to recognise and know them because they picked their children up from school every day, however in Africa children were expected to walk for an hour to get home with 20+ books in their bags therefore we did not get the same opportunity to interact with parents.  We did go on a township tour where we met 3 of the children's families and entered their homes, which was really interesting and valuable.
We painted a wall in my African school which said "Alone we are smart, together we are brilliant!" which is our legacy to the school for the children to strive for what they want to achieve.  This quote also shows how working together as teachers can optimise practice and learning for the children and how they can overcome barriers and challenges as a school.
Children in England and China definitely take for granted their school and education system and they do not realise the amazing start to life they are given.  However, the children I met in Africa are the happiest children I have ever met and they never complain about anything although they have so little.  It is amazing that they are willing to share everything they have with you and it makes you feel so ungrateful for everything you take for granted or for everything you have achieved in life.  I wanted to be able to make a small differences to all these children's lives and I hope I did this because each and every one of them from China and South Africa have touched my heart.  I cannot put into words how much these two experiences have changed my outlook on life and how they have impacted and shaped my own perspectives of my own life but also how they have been invaluable experiences for my future career. I have loved being fully immersed into both of these diverse cultures and teaching amongst some of the most welcoming people who have shared their knowledge with me although.  I can't wait to see where I will end up teaching next.