By Sabrina Samra, teacher in Shanghai (2015-ongoing)
So when I signed up to teach English in China, I didn't really have any clue about the area I'd be in, in China. It's difficult really, because it's a completely new culture, country and part of the world.
The words "downtown" and "suburbs" floated around. Obviously downtown Shanghai was the centre of Shanghai, and the suburbs were more the outskirts. But which would be a better, more fulfilling experience? I debated between the both, but ultimately I confirmed the suburb of Qingpu with the company I had signed the contract with. It took a long while, because of course you want to make the right decision. From what I can tell, being out in Shanghai now, whatever place, downtown, suburb or part of China, is going to be your amazing journey. The bottom line is that it's ALL good.
Various sources of information were telling me that the suburbs are fine, as it gives that escape from busy central Shanghai and is cheaper for living. This is all true. In fact, I am writing this article in order to give an authentic viewpoint of living in the suburbs of Shanghai.
I was told I'd be based in Qingpu which drastically does not even have a metro line which can take me into downtown Shanghai. This panicked me slightly, but now having been to see Qingpu and hung out there, and now working there, it is amazing. It has its own town, beautiful houses, a cheap lifestyle and a few bars to grab a drink! Anyway, it turned out that my fellow Teach English In China friend Jenny and I would be living together in Xujing. This is a suburb, technically in Qingpu, but on the very outskirts of it slightly closer to the centre, and fortunately enough on the metro line! The metro station, East Xujing, is around about a 5minute taxi ride, 7minute bus journey or a thrilling motorbike ride away from our luxurious apartment!
The biggest difference between living downtown versus the suburbs is the sheer size; quality and cheaper price of living you get in the suburbs. The low rent price has effectively allowed for me to travel to many places in and out of mainland China! For me, this cheapness is counteracted by some costs in having to go to downtown regularly. I enjoy attending my MMA class's downtown, Chinese lessons downtown, meeting friend's downtown and going out. I don't let the distance or slight extra cost (it's just a 10rmb/£1 bike ride from the metro to my house OR just a 2RMB/20pence bus ride on the 710 bus) deter me from going downtown. So, it's almost like I get the best of both words downtown, and escaping to the suburbs for peace and a more authentic Chinese living experience. Not to mention we work a lot less hours in the suburbs! For instance, I work just eight hours a week with Fridays off! It's awesome.
Though this is the case for me, for many the suburbs are where a proper life is made, getting connected with the community, having a "local" restaurant/pub/shop and spending most your time there. My fellow Teach English In China friend Theo is living in Jiading and has done pretty much this, he is happy, settled and has a proper home. For me, I have massively settled in Xujing and I've got my favourite local food places that I go to, and the guard at the supermarket knows me well, and there's a cute book café I always go to, but I feel that I've also got this thrilling life downtown that I somehow manage to balance. Depending on your personality you can approach living in the suburbs in either way!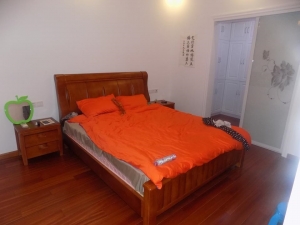 I have a close friend downtown, also a fellow Teach English In China friend Lauren, who I often stay with and she genuinely loves to make the 30minute metro journey to East Xujing to see me in the suburbs – probably just for that EXCITING motorbike ride to my place. As you come out of the metro station there are almost always, apart from very rainy days, a crowd of men and women on spacious motorbikes offering to ride you home at cheap prices. They pretty much know me now so my standard rate is 10RMB, and though its admittedly SLIGHTLY dangerous… it's awesome! In terms of communicating to them I have written down on my phone, in Chinese, the address to my place. Pleko is definitely an APP you should download the minute you land into China too! I always reflect on my life in China when I'm on the ride, and I smile. One awesome memory is when I was having a ride and the man driving would sing a line of a Chinese song and I would repeat it singing out loud, then I started to sing various English songs and he would do the same. This breaks down the language barrior and created a fun sense of communication. Everyone is so friendly in China, especially in the suburbs. It's the relaxed, countryside part of Shanghai in Xujing. I love it.
Another advantage, for me, has been branching out and seeing so much of Shanghai and China generally. For instance, getting downtown, which is practically the equivalent of going from Birmingham to Manchester in England if I'm travelling to where Lauren lives in Pudong, has become nothing. Shanghai is the biggest city in the world, but because I have access to the centre and also the wider outskirts of Shanghai I feel it's become smaller for me. For instance, I work in two schools, one in Qingpu and one in Xujing. I was chatting with my friend Tina, the Chinese teacher, at the Qingpu school and she listening to my tales about my visit to Suzhou. She then told me about an amazing ancient water town that is in Shanghai itself – and in Qingpu!
I have Wednesday afternoon's off work, and ideally Lauren had this day off for a school trip, so we decided to make the visit to the ancient water town in Qingpu named Zhu Jia Jiao. I had recently visited Suzhou, a town near to Shanghai renowned for China's Venice, and been amazed. It was insane for me to arrive into this water town in Qingpu, and realise just how HUGE Shanghai is. I sometimes forget that I live in the biggest city in the world. It has so much character and so much to see. For instance, on my bucket list to visit is still Jiading whereby I want to see the Jiading Confucius Temple and Old Town.
Zhu Jia Jiao was different to Suzhou; it had its own character and significantly a huge lake in which boats floated around peacefully. Lauren and I wandered around the markets, whereby I bought my souvenir for this trip – a beautiful postcard of this beautiful town. One of the teachers who come to my monthly Qingpu workshop told me he lived in this area, and it has a beautiful community, now that I was visiting I could sense the feeling of happiness, community and peace. No words can describe the area, it was stunning. You can sense the history and the fact that archaeological findings date back to 500 years ago. Apparently, and I intend to go back to find it, a Qing dynasty post office still remains. It has many beautiful bridges, restaurants, bars by the water and temples. Particularly, you should see the Fangsheng Bridge, Kezhi Garden and the Yuanjin Buddhist Temple. We stopped for some food and a beer and watched the boats wander by around us; it was a beautiful moment and reminded me why I made the decision to come to this amazing country and city.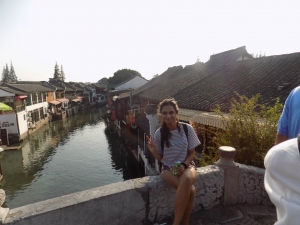 I feel that if I did not live in the suburbs, and lived downtown this trip may have not taken place with as much ease. Ultimately, surrounding areas and downtown are all available for me to get to. You have to have the passion and enthusiasm to get out there and see as much as possible! Moreover, living and working in the suburbs has enabled me to see more of China due to the cheaper living, living allowance is provided from my company of 1500RMB/£150, and I have less hours of working. I often don't have to work; lessons can be cancelled, or have a whole day off for a trip. The rent is a lot cheaper in the suburbs as compared to downtown. For instance, I pay 2400RMB which is £240 rent a month, plus bills (which are practically nothing) and get paid around 11000RMB which is £1100 monthly. This is a very comfortable wage in China.
I also want to mention just how large, luxurious, new and nice the apartments are in the suburbs – so you certainly get more than your money's worth! I recently found out that we in fact earn double the amount of local Chinese teachers, as foreigners. We are clearly very honoured and respected out here, however it did slightly affect me emotionally when I found out my fellow Chinese teacher friend, Tina, earns half as much as me but clearly does more than double the amount of work. Nevertheless, clearly English in China is on the rise, so we Teach English In China teachers are almost part of this significant change in China, bringing a new language here and ultimate huge opportunities for the children we teach and on a more general level, the thousands of Chinese people we talk to each day.
I often have various Chinese people approach me to speak with me, in a very friendly way. Just recently, I explored a different Chinese restaurant opposite to where I live. I have never met more friendly and welcoming people. The man always makes me whatever I fancy to eat, and it's a great time to practice my Chinese! I often order (pronounced:) "gung pow cheeding" which is boneless cubes of chicken with peanuts in a nice sauce with "mifan" which is rice. It's a scrumptious dish. At another place a few doors down, the lady knows me as I always order the "spicy chicken burger and fries". Admittedly, this is for me hangover days or days where I just want something slightly English and familiar. I think it's very natural and tempting to have those days. I promise I don't do that much though! To be honest, that's another benefit of the suburbs. It makes you have a more authentic Chinese experience in Shanghai. Downtown, it's almost like a Chinese version of London. There is EVERY Cuisine possible, lots of western food and some at cheap prices! Living downtown, it would be very difficult to not be tempted away from Chinese food. I like that when go downtown I can treat myself to some western food, a different cuisine or just a nicer Chinese place. 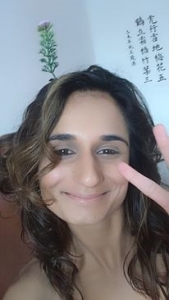 When I walk home, daytime or evening, from the bus stop to my house, along the way I often see men fishing along the river canals, things burning, families eating together outside in hut-like houses, and ultimately it's a genuinely beautiful community in the suburbs – that I naturally feel part of. I always pass a small park whereby children play; it's beautiful when I see Chinese children and "foreign" white and Indian children playing together. Living in the suburbs, whilst also spending a lot of time downtown enables me to break down Shanghai into its layers, and see the whole city. Those people living downtown don't get to escape the craziness, and see how the majority of Chinese people live in Shanghai down in the suburbs. They don't get to see the relaxing scenes of the sun setting whilst men still continue to fish through the night. I see men in the DARK fishing with just a flashlight to see. Also, ultimately, living in the suburbs makes the whole of China more available to me as I pay less, work less and have so much travel opportunity –and am not absorbed into the insane fun and crazy, buzzing life you can have downtown. I remember to appreciate the beauty of travel and that China is so huge and diverse – I'll never figure the whole country out. I love the quote that I saw on the Teach English In China's instagram page:
"The one thing I know for sure about China, is that I will never know China. It's too big, too old, too diverse, too deep. There's simply not enough time. That's for me the joy of China. Facing a learning curve that impossibly steep. The certain knowledge that even if I dedicated my life to learning about China, I'd die mostly ignorant."
– Anthony Bourdain, CNN Parts
Unknown

Check out Sabrina's blog about her adventures in China Sabrina's 'Wanderlust East' blog