By Erin Nyland, teacher in Shanghai 2018-19
They say everything happens for a reason: everything you do in life will unfold to the next event, and in the process, you'll change as a person. You'll look back on the events that make progress and change in your life, and then it'll leave yourself questioning: "what if I hadn't of done that, or what if that hadn't of happened, then would I be in the position I am today?".
I graduated from the University of Sussex last year, and I'm certain that if I hadn't of gone to that specific university, then I wouldn't have taught English in China. It was at the university's careers fair that I came into contact with teaching in China, and from that led the unforeseeable events that unfolded, and now – here I am today.
But it is this exact thought I cannot stop myself from thinking about, but related to something that happened in China. And this was something as simple as signing up for a gym membership.
Within my first month of living in Shanghai, I had already signed up for a gym – called "LeFit" which is a widely recognised gym chain located around different cities in China. At this gym, there was also the opportunity to sign up for different gym classes: including body pump, hip-hop, yoga and Zumba.
Not only had signing up for the gym fulfilled my downtime, but it acted as the starting point to a series of events that were about to unfold. Attending the gym classes was a trigger point for something even more fundamental to my year in China.
Just before my Zumba class had started, a Chinese woman walked through the class, saw me and excitedly ran up to me. "Are you an English teacher?!" she enthusiastically asked me. The woman spoke very little English, but with the broken English that she had, we exchanged WeChat contacts, followed by a dinner invitation at her home the next Wednesday to meet her English-speaking enthusiast twins; Gavin and Alisa, both aged 12 years old.
This dinner that I first had with the Chinese family was a kick-start for one of my most memorable moments in China. I was cooked some delicious food, while the twins chattered to me about the school that they are studying at. By the end of it, I played a game of chess with Gavin, and Alisa played a music piece on the piano.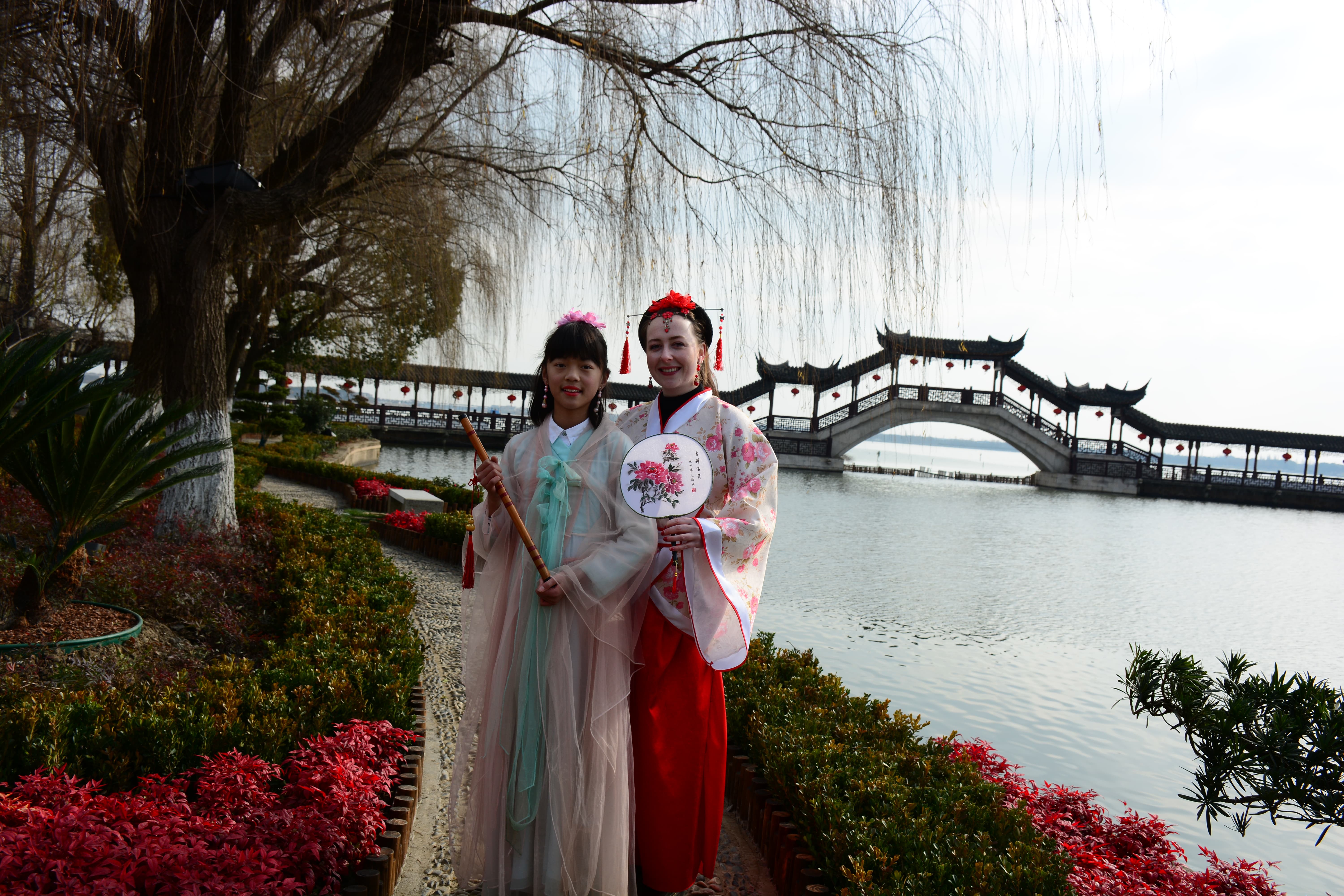 That Wednesday dinner, then turned into a dinner the Wednesday after, which then turned into the Wednesday after that, and soon enough, it became a Wednesday tradition. Every Wednesday at 4pm, I met the 12-year-old twins outside of their school which happened to be directly outside my apartment complex, and we would walk to their apartment and I would spend my evenings there. I would experience all kinds of Chinese food, eating dinner together with the family, and I helped them all improve their English, whilst in return, they all taught me things related to China and its culture.
The children's determination to learn the English language was so refreshing. One time, I had unconsciously made the comment "it's golden hour" as the sun seeped through the windows of their apartment whilst it was setting at around 5pm. The next week, the same thing happened, and Gavin said: "Erin, it's golden hour!". I was so shocked that he had picked up on the little phrases that I had said.
I've also been lucky enough to have been taken on day trips out with the family. One time, they drove me all the way to their friend's birthday party in Qingpu, a district in Shanghai. I had the chance to eat as much Chinese food as my heart desired, ride in a boat along Qingpu river, and even try on a traditional Chinese dress.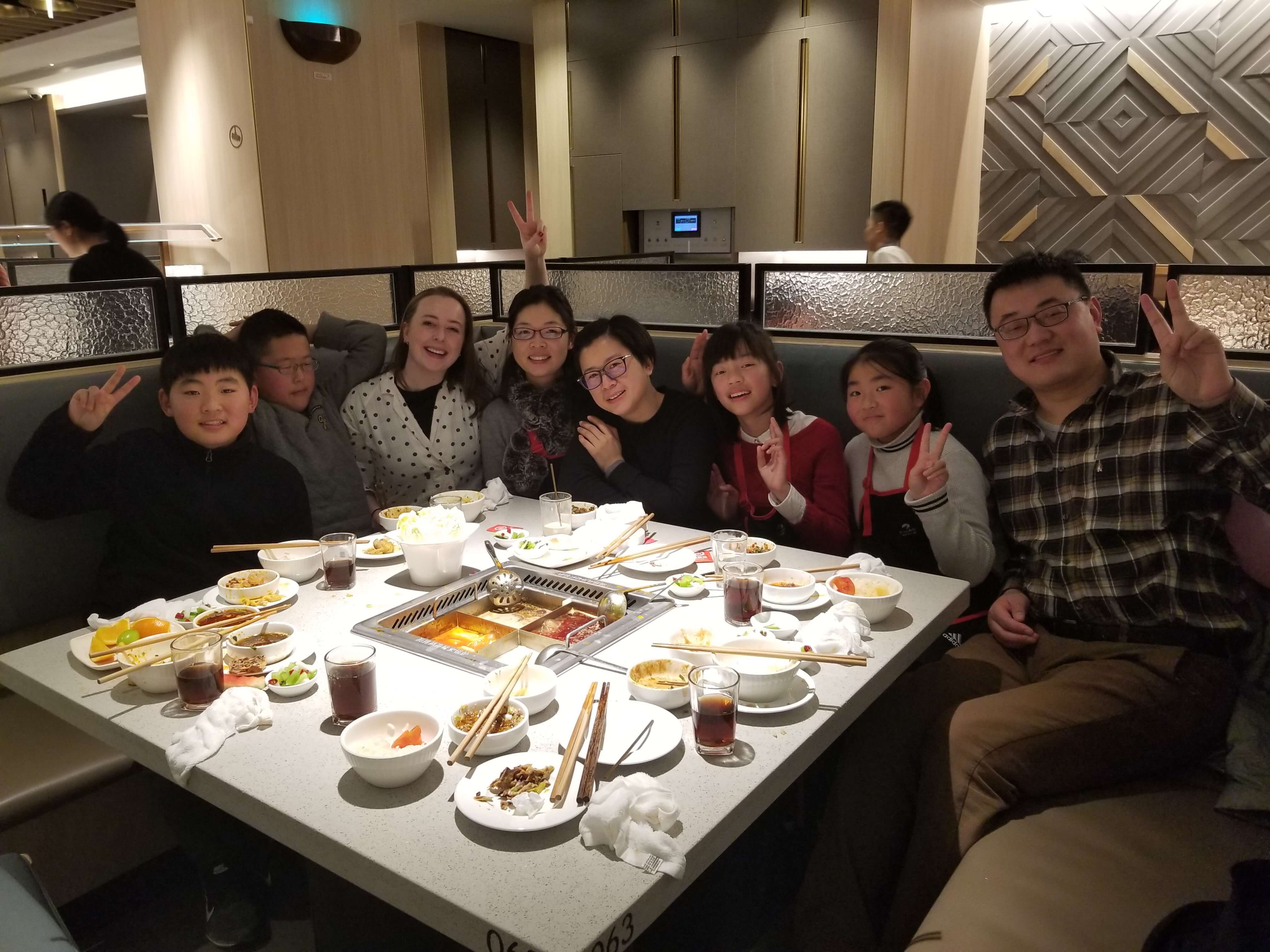 The experience that I've had with my own Chinese family, where they invited me to their home, took care of me, drove me around, fed me lots of good foods – and in return, would never accept a single penny from me, is just an example of how kind-hearted Chinese people are. I took this out of respect, but of course, I returned the favour by always making time for them when they asked me to join them for dinner, or to spend the day with them. I really cannot appreciate them enough for what they have done.
Signing up for a gym and attending a gym class was something that I would never have thought I would do in China, and this was an achievement in itself. But it also triggered something even more special – the meeting of my own Chinese family, the most heat-warming, generous and beautiful family that I could have ever met. This is a family that really made my time in China what it was, and a family that I will keep in close contact with for the rest of my life.
So… my advice? I would suggest that if you get the chance, in the future, an invitation to spend a day with a Chinese family, or if a Chinese person has invited you to spend the day with them, then say YES. Because I can promise you that you will surely have an unforgettable, authentic experience that money just cannot buy.
Oh, and sign up for the gym too – you'll never know who you will meet!
If you'd like to follow Erin's teaching journey in Shanghai, you can do so in our Teacher Blogs category.