Let's face it. If you've ever considered teaching English in China, Beijing and Shanghai are sure to have crossed your mind. These two world-famous metropolises are by far the two most popular destinations among foreign expats seeking employment in the Middle Kingdom. Sure, you might know people who have ventured to less popular but still well-known cities like Chengdu, Hangzhou or Nanjing. But what about the places that people outside of China rarely hear of? Teaching in 'off-the-beaten-track' locations can be equally (if not more) rewarding and certainly worth considering. Unfortunately, it can be hard to find information about these lesser known cities. That's where we come in… in no particular order, we've put together our favourite 5 unique destinations to teach English in China.
The capital of China's northernmost province Heilongjiang, Harbin is a unique city best known for a yearly winter festival, which sees the formation of a literal ice city. Bordering Siberia, the climate is (as expected) cold, with temperatures dropping as low as 20 degrees Celsius during the winter months. But don't let that put you off; its proximity to Russia gives it a unique feel that you'll find nowhere else in China.
Harbin locals are fiercely proud of their culture, not to mention extremely welcoming to foreigners. The city has a long history of inward immigration, meaning you'll certainly feel at home! The so-called ice city is home to stunning scenery, Russian style architecture and traditional cultural habits that people travel from far and wide to experience. Teaching English in Harbin won't only give you easy access to the popular annual ice festival, but also a fascinating insight into a part of China that many beyond its borders have never heard of.
If you're looking to really get off that beaten track and venture to somewhere few foreign teachers do, Baotou is the place. Though it might not be known to most, that doesn't mean it's small; as the second largest city by population in Inner Mongolia, Baotou is home to over 2.6 million people. Its Mongolian name, which translates as 'the place with deer', originates from the Qing Dynasty, when Baotou was first established as a city and hundreds of deer were found in the region.
Baotou, or 鹿城; Lùchéng as it's often referred to in Chinese, is one of China's most culturally diverse cities that's home to more than 35 nationalities and numerous Chinese ethnic minorities. If you were concerned about being the only foreigner, think again! Baotou's unique attractions draw in thousands of tourists each year, many of whom are interested in digging deeper into Chinese history. Believe it or not, relics of the Zhao and Qing Great Wall can be found here! Besides history, Baotou offers a lot in the way of scenery; the vast Singing Sand Ravine, lush Xilamuren Grassland, and majestic Jiufeng mountain make for great places to escape to and discover a different side of China.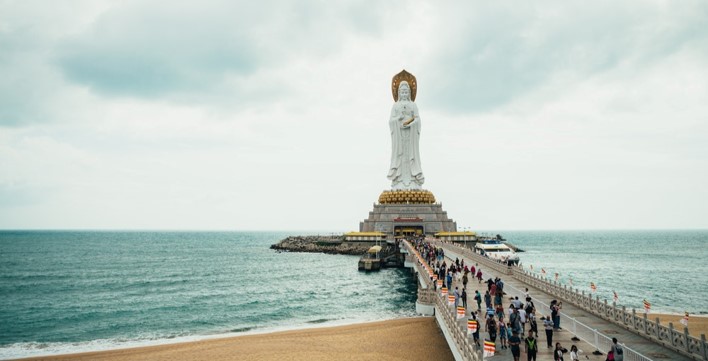 3. Hainan
If you thought China was all skyscrapers and smog, think again. Sunseekers will be just as happy in China as they would be in Thailand with this paradisiac province. You'd be forgiven for thinking China's only island province belonged to a Southeast Asian nation if you didn't know better; this gorgeous destination looks a far cry from the built-up metropolises we're used to seeing. But, geographically it kind of is. Located at the southernmost point of mainland China, Hainan is separated from Guangdong's Leizhou Peninsula by the Qiongzhou Strait. Its two most popular and best-known cities, Haikou and Sanya attract thousands of domestic and clued-up foreigner travellers seeking some real summer sun each year.
Though it appears like more of a holiday destination, there is still much to do in the region; here you'll find traditional temples and pagodas among tropical coconut plantations and sandy beaches. If you've always seen yourself living and working in paradise, but are also intrigued by China, there really is no better place!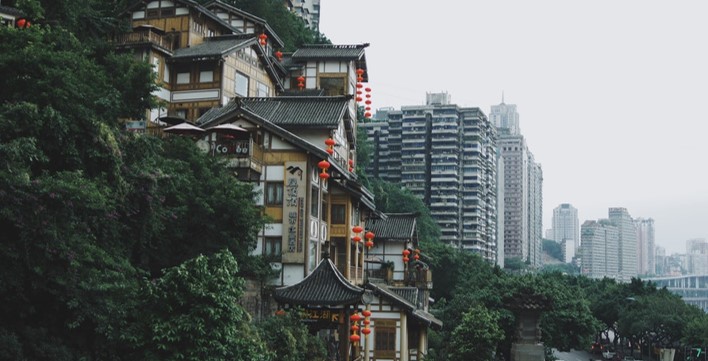 China's largest municipality and the biggest city in Southwest China, Chongqing is by no means a small, unknown destination. In fact, though you may not have heard of it, it's one of China's important, bustling mega-cities home to a rapidly growing economy. Known to many in China as 'mountain city', Chongqing is on and surrounded by mountains, giving it a particularly hilly terrain. Its unique location mean that Chongqing is one of China's 7 'furnace cities' and endures extremely hot and humid summers.
In keeping with the hot theme, Chongqing's famous cuisine is among some of the spiciest and most delicious you'll find in China. Many of the cities best dishes have spread their way around China in milder forms but be careful; when they say spicy in Chongqing, they really mean it! As a large metropolis, the city has a lot to offer in the way of sightseeing, nightlife, shopping and history. Though it may feel you're miles away from any sign of nature in the fast-moving city centre, its western location mean that gorgeous natural wonders like the Three Gorges and the Wulong Karst are just a stone's throw away.
The capital of China's mysterious western region of Xinjiang, Ürümqi makes for a thrilling experience. Once a major hub on the Silk Road, connecting China to Central Asia and Europe, the city boasts a colourful history. Its 49 different ethnic minority groups form a population of around 3.5 million and make the city an extremely diverse and interesting place to explore. Ürümqi is blessed with some of the nation's most beautiful natural landscapes; surrounded by the towering snowy Bogda Peak, a vast Salt Lake, fields and sand dunes, you won't find scenery like this anywhere else in China.
If you're looking for a truly different adventure and you love the great outdoors, Ürümqi is the perfect choice. When you're not teaching English, you'll have the chance to breathe in the fresh mountain air and hike, ski and explore the city's endless natural attractions. There's no part of an Ürümqi experience that looks like the traditional pictures of China we're all so familiar with. Venture to this remote western region, and you'll uncover an aspect of Chinese culture few foreigners have ever heard of.
These are just some of the many exciting places you can teach English in China. If you're now inspired to start your adventure in a less well-known location, get in touch with our team, or browse our destination page to begin.