By Natasha Lock, State school teacher in Suzhou, 2019
Everyone says time flies when you're having fun; never has this felt more true. It honestly feels like yesterday that I arrived at the gates of my school, wrapped up in layers of coats and being asked by the school gatemen 'ni shi shei' (who are you) on freezing winters' morning in Suzhou. Now I am walking out of the school gates for the final time, in a pair of shorts and the hot summer sun, cracking a joke with the same gatemen and wishing them all the best. Just as the seasons and weather have changed in Suzhou, so has my journey of being a teacher.
It was such an overwhelming, euphoric feeling arriving at Suzhou No.10 High School for the first time on that cold February morning. The students got their first glimpse of a blonde foreign teacher walking down the corridor and all started screaming in excitement. Like a game of Chinese Whispers, I could hear the word 'tian ah!' (omg!) and 'wai guo ren!' (foreigner) flowing down the school corridor, with the news making its way down each classroom and all the students rushing out to get a look. I stood in front of my first class with, to be honest, not a clue what I was about to do. My sister Annie is a primary school teacher in London, and an absolutely incredible one at that. I have often helped out with her classes when I've had spare time, and been in total awe of the energy, inclusiveness and positivity that she brings to a classroom. So I remember all that was going round in my head was 'just be like Annie! Just be like Annie!' in the minutes leading up to my first class. The school bell, notifying both myself and the students that class was ready to start, rang.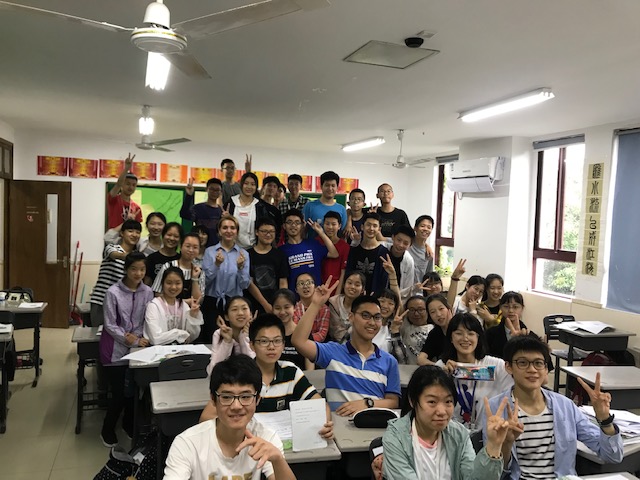 Six months later and this time is sadly coming to an end. Teaching has been the most wonderful experience for me; I get a total energy buzz and thrill being the source of their learning. I wake up excited to see the students and to see what the day has to offer. Of course I also learn from them, all the time. To be as curious as Chris and Farmerchew (yes there is a student called Farmerchew). To be as keen to learn as Gloria and Sandy. To be as polite and courteous as Clearlove. To be as pure as Sarah. To be as unique as Bismark, AK47 (yes there is a student called AK47) and Hannah. To be as constantly smiley as Martin, Sunny and Timo. To be as cool as Nathan. For students who, on the whole, have never left the country and spend most of their lives at school they have some incredibly wise and mature perspectives and takes on the world. It has been such a pleasure of mine hearing some of these outlooks and reconsidering my own views on things because of it.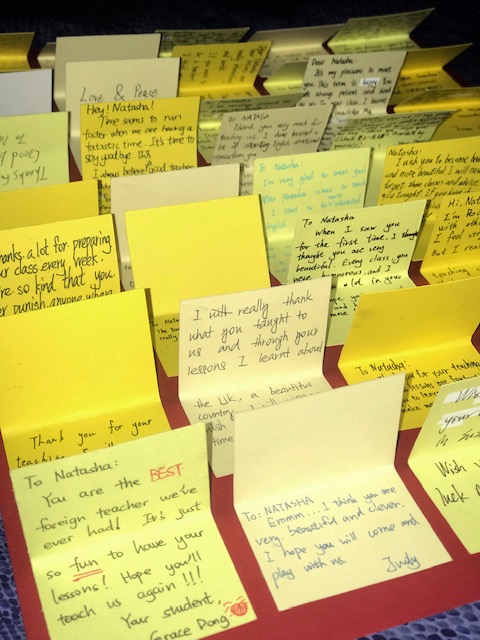 I really wanted to make a memorable final lesson for them, not only because they absolutely deserve it but also so they had something valuable to take from my classes. As I've said in a previous blog, there is such a concentration of achieving good exam results and academically flourishing in China; as a result I feel like sometimes the emphasis on personal characteristics and qualities can be lost to study. During my time here, due to this heaving focus on academia, I diverted from teaching my students heavy based content, and I really try to base my topics on life lessons for the students. We had lessons on what it means to be a good Samaritan, Shakespearen words we still use today, the true meaning of wealth and the importance of resilience. For the final lesson I decided, with some guidance from my colleague Sebastian, to do a class entitled 'character strengths'. Every student in every class knows their academic strengths and weaknesses, they know exactly where they rank in terms of their maths results in the class and both they themselves and the other students know who is slacking on their physics scores. They know all of this detailed information about their academic ability but when I had in previous classes asked 'what are your personality strengths?' the room fell silent. At 16 years old, I think it is important to know your character strengths, as they become more and more informative in setting your life goals, how you build relationships with people and how to live your life best.
We started class debating what is the difference between a person being ordinary and extraordinary. None of them had quite clocked onto what I was really getting at. Many of the answers were 'ordinary means your normal – like us students for example, extraordinary means you are really special – like a good looking member of a Korean boy band' or 'ordinary means you are just like everyone else, extraordinary means you are different from everyone else'. 'Okay' I said, 'Let's work with that. Think about the definitions you just gave…. If extraordinary means your different from everyone else… then isn't everyone extraordinary? Sunny please can you stand up… with this in mind…. What does it mean to be extraordinary?'. Sunny stands up and says the answer I had been hoping for, 'I guess being extraordinary therefore means simply being ourselves, embracing what makes us different and welcoming other peoples differences. Everyone has something that makes them extraordinary'. Bingo!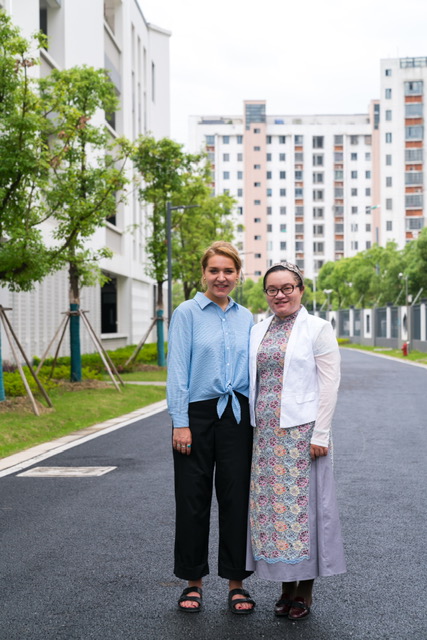 After this we took a class exam. But not like a normal exam for them. We took the Myers-Briggs Type Indicator test – a test that shows your personal strengths through answering a series of questions. This was fascinating for the students as they were really discovering things about themselves that they had never even considered before. As I kept telling them, they will be the next generation of doctors, teachers, lawyers, soldiers and athletes.  Yes, a doctor needs to be good in maths and science, but they should also have a compassionate character and a nurturing nature. Yes, an athlete should flourish in sports, but also they need to be resilient, self-disciplined and humble. I wanted them to know, that no matter what their grades in maths or history are, their voice is incredibly important and its vital that they value themselves and what they are good at.
To be honest it has been really tough saying goodbyes to the students. However, in today's world of technology and the ease of connections it will be easy to keep in touch. Standing in front of all 60 of them, in each of my 15 classes, and wishing them a goodbye seemed a rather impersonal way of saying farewell to individuals that I had come to know so personally. So a quote attributed to poet William Arthur Ward seemed a rather apt way to finish off my class and remember these sessions:
'Life is short; so love your life.
Be happy and keep smiling.
Before you speak, listen.
Before you write, think.
Before you spend, earn.
Before you quit, try.
Before you hurt, feel.
Before you hate, love.
That's life.
Feel it, live it, enjoy it.'
That is the teaching chapter closed for now whilst I start a new journey, going back to being a student myself. I will be pursuing a masters at Peking University for the next couple of years. However, my teaching experience in China has only fuelled my desire to continue teaching on into the future! It has provided an incredible experience into realising the impact your teaching can make on so many at such an important time in their lives. As my parents have always told me, 'find a job you love and you'll never work a day in your life'.
Do you want to experience this for yourself? Find out more about our State School Teaching Programme and take your first steps towards living and working in China.